Adaptations
(Beacham's Guide to Literature for Young Adults)
Since it was first filmed in Great Britain in 1920, Wuthering Heights has been a popular basis for films. There have been numerous adaptations of the love story of Cathy and Heathcliff. Many critics agree that the English version directed by William Wyler (United Artists, 1939), which starred Laurence Olivier as Heathcliff, Merle Oberon as Cathy, with supporting performances by Flora Robson and David Niven, is the best version. This highly dramatic black-and-white version emphasized the dark, brooding moors and accentuated the passion of the star-crossed lovers. Another popular English version (American International, 1971) was directed by Robert Fuest and starred Timothy Dalton, Anna Calder-Marshall, Harry Andrews and Hugh Griffith, and focused more on Cathy's smoldering, much-abused and vengeful love. Abismos de Passion (Mexico, 1953) is a Spanish-language version which was directed by Luis Bunuel and starred Iraseme Dillan and Jorge Mistral, with music by Richard Wagner.
Media Adaptations
(Novels for Students)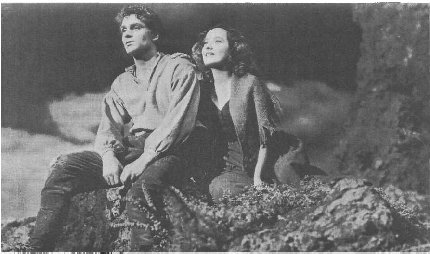 Wuthering Heights continues to inspire filmmakers: adaptations include those by William Wyler, starring Laurence Olivier and Merle Oberon, 1939, available from HBO Home Video and Home Vision Cinema; by Robert Fuest, starring Timothy Dalton and Anna Calder-Marshall, 1970, available from Congress Entertainment, Karol Video, The Video Catalog; a reworking under the title "Abismos de pasion," by Luis Bunuel, starring Jorge Mistral and Irasema Dilian, 1953, available from Xenon, Media Home Entertainment, Applause Productions; and by Peter Kosminsky, starring Ralph Fiennes and Juliette Binoche, 1992 (not released in the U.S., but later broadcast on Turner Network Television).
Sound recordings have been published by Listen for Pleasure, 1981; Recorded Books, 1981, and Bantam Doubleday Dell Audio, 1995. The novel was read by Michael Page and Laurel Merlington for an audio version, Brilliance Corporation, 1992, entitled Wuthering Heights Readalong, Lake Publishing Co., 1994.
The novel has been adapted as a four-act opera by Bernard Herrman, libretto by Lucille Fletcher, 1950. An adaptation by Carlisle Floyd, who also wrote the libretto, in three acts was first performed in 1958. The novel was also adapted for the stage by Charles Vance and published by Samuel French, 1990.
Bibliography
(Great Characters in Literature)
Davies, Stevie. Emily Brontë: The Artist as a Free Woman. Manchester, England: Carcanet Press, 1983. Discusses not only the novel but also Brontë's personal life and tragedies, the fantasy worlds created by her and her siblings, and her poetry. Provides an incisive look at the novel's structure and an in-depth study of the personalities and motivations of the main characters.
Everitt, Alastair, ed. Wuthering Heights: An Anthology of Criticism . London: Frank Cass, 1967. A collection of...
(The entire section is 1,240 words.)