Download W. S. Gilbert and Sir Arthur Sullivan Study Guide
Subscribe Now
W. S. Gilbert and Sir Arthur Sullivan
(History of the World: The 19th Century)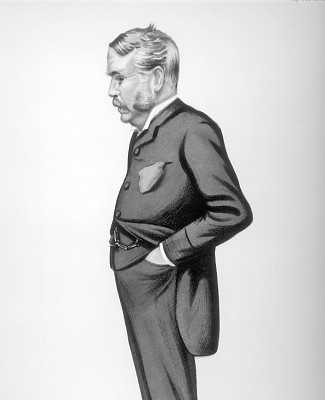 Article abstract: In his collaborations with Sullivan, Gilbert forged a truly British character for light opera, in the process establishing operetta as a major dramatic subgenre and extending its boundaries to include melodrama, satire, and serious drama. While Sullivan, one of the foremost British composers of the nineteenth century, displayed an amazing range, from overtures and oratorios to operettas and hymns; he is primarily remembered for his collaborations with W. S. Gilbert.
Early Lives
Born to William Gilbert, a sometime naval surgeon who became a prolific if not a talented novelist and playwright, and Anne Morris Gilbert, a doctor's daughter who is remarkable only for the apparent lack of effect she had on her son's life, William Schwenck Gilbert was the eldest of five children, and the only male child. When a toddler, he was kidnapped at Naples and held for ransom. His abductors demanded and received the princely sum of twenty-five pounds for their trouble, and it is possible that this experience provided part of the impetus behind the plot of The Pirates of Penzance: Or, The Slave of Duty (1879), in which a dim-witted nurse mistakes pirate for pilot, thus beginning the complications that dog young Frederick's life.
More important than the kidnapping, though, was the influence the elder William Gilbert exerted over his son. The two were entirely alike in temperament: combative, active, confident to a fault. The father instilled in the son an almost unhealthy need to win and an overweening sense of his own worth. This arrogance was Gilbert's early undoing, for at the Western Grammar School and later at Ealing he was a lazy student, until he realized, with a shock, that he was falling behind other boys whose intellectual capabilities he scorned. He began to apply himself, and at sixteen he became head boy at Ealing, going on to enter King's College, London, in 1853, and taking his degree in 1857.
The next period in Gilbert's life looms large in its impact on his career as a dramatist. In 1855, he entered the Inner Temple to study law, and in 1857, the year he took his degree, he joined the militia, beginning twenty years of service there. Both his experiences at the bar and his military service provided grist for Gilbert's satirical mill, not only in his operettas, but in The Bab Ballads (1869) as well. At any rate, his desire for military service in the Crimea was thwarted when that war inconveniently ended, and his service at the bar, beginning in 1863, was only slightly more successful; he earned only seventy-five pounds in two years.
In the meantime, Gilbert passed the long quiet time in his law office by becoming involved in literary affairs. His first lyric, a translation of the laughing song from Daniel-François-Esprit Auber's Manon Lescaut, debuted in 1858, and in 1861 Gilbert began contributing to a new satiric magazine, Fun, which would become the principal rival of Punch, to which Gilbert also contributed in 1865. More important, he began his stage-writing career with Dulcamara: Or, The Little Duck and the Great Quack (1866), an operatic burlesque, the first of five that he would produce during the 1860's. That year also saw the publication of "The Yarn of the Nancy Bell" and in 1867 The Bab Ballads began to appear in Fun.
In August of 1867, Gilbert married Lucy Blois Turner, a military officer's daughter. A tall man with a military bearing, Gilbert cut a handsome figure. His short brown hair swept back from his broad forehead and, together with his long muttonchop sideburns, framed a narrow face. A square chin combined with these other attributes to give him a stolid, formidable appearance which seemed to heighten his personal characteristics of stubbornness and feistiness. These characteristics served him well in his literary life, for he was so confident of his talent that he often went over editors' heads and persuaded the owners of journals to publish...
(The entire section is 2,826 words.)