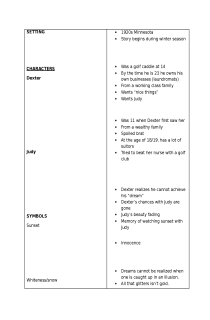 Winter Dreams 2 Column Notes
by dicksont
Release Date: February 12, 2019
Age Levels: Grade 11
Purchase a Subscription
Excerpt
Setting:
Story begins during winter season
Dexter:
By the time he is 23, he owns his own business (laundromats)
From a working class family
Judy:
Was 11 when Dexter first saw her
At the age of 18/19, has a lot of suitors
Tried to beat her nurse with a golf club
Sybmols (Sunset, whiteness, snow)
Dexter realizes he cannot achieve his "dream"
Dexter's chances with Judy are gone
Memory of watching sunset with Judy
Dreams cannot be realized when one is caught up in an illusion
About
I showed this through my document camera in the classroom and gave the categories. I had the students fillin the information in the second column. You can add or delete whatever you want.