Biography
(Masterpieces of American Literature)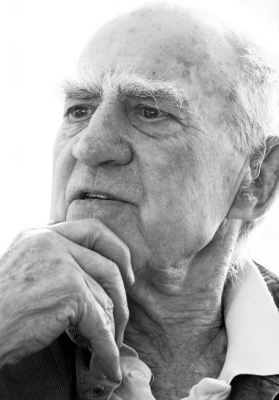 William Gibson was born in the Bronx, New York City, on November 13, 1914. His father, a mailroom clerk and a talented amateur pianist, died during Gibson's childhood, and his Irish Catholic mother had to work as a scrubwoman to support the family. A Mass for the Dead (1968) is a heartfelt chronicle of Gibson's childhood and adolescence. Emulating his father, Gibson learned to play the piano as a child and in his early writing days worked as a piano teacher and as a performer to supplement his income. His lifelong interest in music is reflected in his work on the libretto for the operetta The Ruby (1955) and the text for the 1964 musical Golden Boy. By the time he was sixteen, Gibson had graduated from Townsend Harris Hall, a Manhattan public high school for gifted boys, and had begun work at what later became known as City College of the City University of New York. Gibson did not like college, however, and dropped out after two years.
In 1940, at twenty-six, Gibson married Margaret Brenman, a psychoanalyst, whose work with the Menninger Clinic had led them to Topeka, Kansas. At the Topeka Civic Theatre, Gibson had his first plays performed, a one-act verse drama about the Apostle Peter, I Lay in Zion (1943), Dinny and the Witches (1945), and A Cry of Players (1948). Dinny and the Witches was revised and produced Off-Broadway in 1959 but was panned by critics and closed after only twenty-nine performances. A Cry of Players was also produced in New York City at Lincoln Center in 1968 but enjoyed only moderate success.
In the 1940's, however, Gibson had not settled on being a playwright. He was also writing short stories and poems and won the Harriet Monroe Memorial Prize for a group of poems published in Poetry in 1945. He also published, through Oxford University Press, a collection of poems titled Winter Crook in 1948. Eventually, he wrote a novel, The Cobweb (1954), which he sold to Metro-Goldwyn-Mayer film studios, earning enough to buy a home in Stockbridge, Massachusetts, where his wife had taken a new job.
In Massachusetts, Gibson turned again to drama and in 1956 completed the play that would launch his meteoric Broadway career. Two for the Seesaw (1958) is the story of a brief love affair between a Nebraska lawyer separated from his wife and a New York dancer down on her luck. The play was completed with the encouragement of Arthur Penn and appeared on Broadway with established star Henry Fonda playing Jerry Ryan and Anne Bancroft, then a newcomer, portraying Gittel Mosca. The play was a huge success, running for 750 performances and grossing more than two million dollars in its two-year run. Though the work drew critical praise, Gibson considered the four-year process "the most odious experience of my life" because commercial pressures had forced him to alter the script drastically. He records the story of the writing, casting, rehearsal, and production of the play in The Seesaw Log: A Chronicle of the Stage Production (1959); his unflattering portrait of Henry Fonda remains striking and controversial. Touring companies took the play around the world, a film version of the play appeared in 1962, and a musical version of the play was mounted on Broadway in 1973, rewarding Gibson with a considerable amount of money for his aggravation.
Before 1959 was over, Gibson already had another Broadway hit. The Miracle Worker (1959) treats the amazing true story of how Annie Sullivan helps the deaf and blind Helen Keller to acquire language at the age of six, despite Helen's inability to experience anything outside her own mind except what she can touch. The script had originally been a teleplay, appearing on CBS's Playhouse 90 anthology series and winning the Sylvania Award in 1957 as the year's best television drama. Gibson rewrote the play for the stage, and it appeared on Broadway in 1959 with Anne Bancroft as Annie Sullivan and Patty Duke as Helen Keller. The Miracle Worker was Gibson's second...
(The entire section is 2,375 words.)