Other literary forms
(British and Irish Poetry, Revised Edition)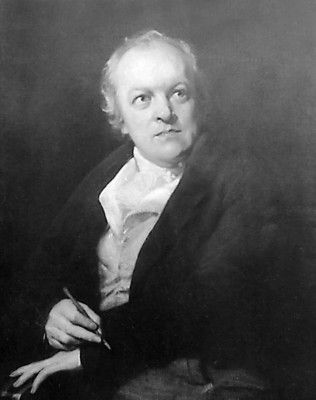 William Blake's prose includes An Island in the Moon (1987), To the Public: Prospectus (1793), A Descriptive Catalogue (1809), marginalia, and letters. It is almost a given with Blake scholarship and criticism that the interrelation of poetry and design is vital. David V. Erdman's The Illuminated Blake (1975) includes all of Blake's illuminated works, text, and design, with a plate-by-plate commentary.
Achievements
(British and Irish Poetry, Revised Edition)
William Blake's reputation during his lifetime was not a fraction of what it is today. He worked hard at his trade, that of engraving, but his style was not in fashion, and his commissions were few. His poverty and the laborious process of producing his own illuminated books for sale prevented him from producing more than two hundred copies of his own work in his lifetime. Even the Songs of Innocence and of Experience, which he sold sporadically throughout his career, remained virtually unnoticed by his contemporaries. What little reputation he had among his contemporaries was as an artist, ingenious but no doubt mad.
In 1863, Alexander Gilchrist's biography of Blake did much to establish Blake's reputation as an artist and a poet. The Yeats-Ellis edition of Blake (1893) further enhanced his fame, not as a forgotten painter and poet, but as a purveyor of esoteric lore. Accurate transcription of Blake's texts began only in the twentieth century with the work of Geoffrey Keynes. Modern critical work was pioneered by S. Foster Damon in 1924, but it was not until Northrop Frye's Fearful Symmetry in 1947 that Blake's work was treated as a comprehensible, symmetrical whole.
A poet-artist who imaginatively remolds his own age and its traditions and then produces poetry, engravings, and paintings within that re-created world is a poet-artist who will attract a wide variety of readers. Blake's profound understanding of the ways in which humans deal with the warring contraries within their minds has become a fertile source for modern psychology. Carl Jung referred to Blake as a visionary poet who had achieved contact with the potent wellspring of the unconscious. Blake's devotion to a humanistic apocalypse created through the display of exuberant energies and expanded imaginative perceptions has been an inspiration to two generations of twentieth century writers: first D. H. Lawrence, E. M. Forster, William Butler Yeats, and Aldous Huxley, and later, Norman O. Brown, Allen Ginsberg, Theodore Roszak, Colin Wilson, and John Gardner, among others. If a poet can be judged by the quality and quantity of the attention he receives, Blake certainly rose in the twentieth century from a vague precursor of Romanticism to one of the six major English Romantic poets.
Discussion Topics
(Masterpieces of World Literature, Critical Edition)
Show how central William Blake's visual artistry is to his success as a poet.
What is the relationship between Blake's Songs of Innocence and Songs of Experience?
Given the power and the simple language of some of his best poems, how does one explain Blake's difficulty in finding an audience?
What is the basis of Blake's rejection of such notable English thinkers as Francis Bacon, John Locke, and Isaac Newton?
What qualities of America: A Prophecy would have attracted Americans in Blake's time? What aspects of the poem do you think they would not have appreciated?
Why do you suppose Blake found it necessary to "correct" John Milton a century after his death?
Why, in "The Tyger," should symmetry be called "fearful"?
Blake is sometimes called a mystic. What is mystical about him?
Bibliography
(British and Irish Poetry, Revised Edition)
Ackroyd, Peter. Blake: A Biography. New York: Alfred A. Knopf, 1996. A penetrating biography of the poet.
Beer, John. William Blake: A Literary Life. New York: Palgrave Macmillan, 2005. This biography traces Blake's life, offering commentary on his religious background and painting a clear picture of the complexity of his poetry as well as his visual artistry.
Bloom, Harold, ed. William Blake . New York: Chelsea House, 2008. A collection of essays on Blake that...
(The entire section is 962 words.)