Willa Cather Biography
Willa Cather's name has become synonymous with the pioneering spirit of the American West. Novels like O Pioneers!, Song of the Lark, and My Antonia feature largely female characters cast into a world in which they are forced to contend with the overwhelming space and barrenness of the Midwest. Much of the drama of these early works arises not only from the isolation of the landscape but also the isolation of the immigrants who have left their homes in Europe to pursue the American Dream. Language barriers and cultural barriers often made for a lonely existence for these pioneers, struggles which stem from Cather's own life. Her family moved south from Quebec, crossing six states by covered wagon before finally settling in Nebraska. In addition to her novels, short stories, and poetry, Cather also worked for many years as an editor. She died in 1947.
Facts and Trivia
Cather entered the University of Nebraska in 1895 disguised as her fictional twin brother, William Cather.
She worked as the managing editor of McClure's magazine for many years until author Sarah Orne Jewett advised her to quit and seriously pursue a career as a writer.
Cather sustained a forty-year relationship with her nearly life-long companion, Edith White. Although a lesbian, Cather remained closeted all of her life. Still, there is subtext in most of her novels that reveals her feelings about sexuality.
A lover of life, Cather is quoted as saying, "I shall not die of a cold. I shall die of having lived."
The state of Nebraska has declared a portion of protected land the "Willa Cather Memorial Prairie."
Biography
(History of the World: The 20th Century)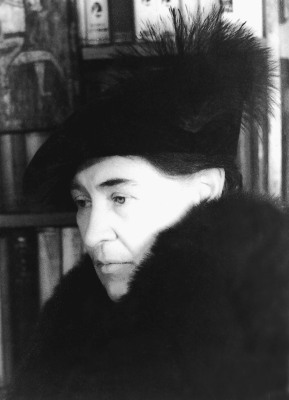 Article abstract: At a time when such careers were nearly unheard of for women, Cather became a celebrated theater and music critic, crusading magazine editor, and accomplished novelist-poet in the tradition of American naturalism.
Early Life
The life of Willela Sibert Cather is filled with small surprises. Though she became identified in the minds of her readers with Nebraska, the setting for much of her fiction, she actually lived the first nine years of her life at Willowshade, her family's home in rural western Virginia. Then too, although many biographies report the year of her birth as 1874 and her tombstone reads 1876, her actual year of birth was 1873. S. S. McClure, founder of McClure's magazine, suggested the first alteration when he hired Cather as one of his editors in 1906, while she herself chose 1876 upon publication of Youth and the Bright Medusa in 1920. Though almost every picture ever taken of Cather shows a round-faced, kindly-looking Midwestern farm woman in middy-blouse and tie, she actually lived half of her life in New York, first in Greenwich Village and later on Park Avenue. Her plain, almost mannish appearance served her well, both in the male world of journalism and later as adjunct to her distinctively American fiction. In later life, she would wear bright, sometimes almost garish colors and prints.
Cather liked to say that she had been named after both her grandfathers, William Cather and William Lee Boak, and for her mother's brother Willie Sibert Boak, who fell fighting for the Confederacy. The family Bible, however, lists her name at birth as "Willela," the same name as that of her father's deceased sister. This small list of minor alterations and harmless deceptions tells much about Cather's ability to recognize the importance of romantic characterization. It also implies, correctly as it appears, that many of Cather's most appealing fictional protagonists reflect aspects both of their creator and of people she knew and often admired.
Cather was the eldest of seven children born to Charles Fectigue and Mary Virginia Boak Cather. Rachel Boak, Cather's maternal grandmother, owned the house in which Cather was born. It was located in Back Creek Valley near the town of Winchester. Boak was a widow with five children, the youngest of whom was Cather's...
(The entire section is 5,624 words.)