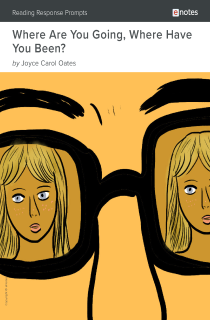 Where Are You Going, Where Have You Been? eNotes Reading Response Prompts
*This download is only available with the eNotes Teacher's Subscription
Purchase a Subscription






9 pages
Language Arts,
Literature
Excerpt From This Document
Connie is a fifteen-year-old girl whose life is focused on her appearance, popular music, and teenage boys. Do you think Connie is a typical teenage girl of that age? Why or why not?
In the parking lot at the restaurant, someone calls to Connie and her girlfriend, inviting them to come over to his car. They recognize him as a boy from high school they don't like. Why do you think Connie and her girlfriend "feel good to be able to ignore him"? How do they seem to be feeling about themselves during this encounter?
Describe the stranger Connie sees watching her in the parking lot. What is your first impression of him? Does he seem threatening to you? Why or why not? How do you interpret his saying, "Gonna get you, baby"?
About this Document
These eNotes Reading Response Prompts are designed to encourage your students to read more effectively and with more pleasure by giving them interesting subjects to write about after they have read. Many of the prompts will take them directly into the text, while others will give them an opportunity to express their thoughts and feelings and to reflect on their own experiences.
A second purpose of the eNotes Reading Response Prompts is to facilitate instruction in ways that work for you in the classroom. The organization of the prompts makes them easy to use, and the content and construction of the prompts are designed to develop students' knowledge and academic skills.