Biography
(Masterpieces of American Literature)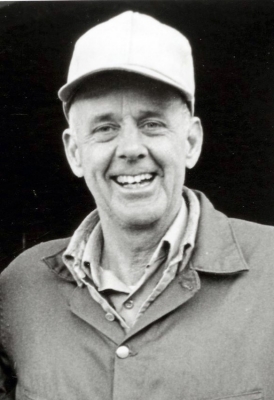 Wendell Berry was born in rural Henry County, outside Port Royal, Kentucky, on August 5, 1934. His father, John Berry, was a respected lawyer and attorney for the Burley Tobacco Growers Association. The Berrys—Wendell's mother, two sisters, and brother—were all readers, and they were a lively and well-informed family. His father was a keen judge of farmland and often spoke with his sons about the merits of various local farms.
Wendell attended local public schools and entered the University of Kentucky in Lexington, where he earned his B.A. in 1956 and his master's degree in English in 1957. He married Tanya Amyx in May, 1957, and taught for a year at Georgetown College, a small liberal arts school in Georgetown, Kentucky. Deciding to pursue a career as a writer, he applied for a Wallace Stegner Writing Fellowship at Stanford University, studying under Stegner in 1958-1959, and then serving as E. H. Jones Lecturer (in creative writing) in 1959-1960. Berry's first novel, Nathan Coulter, was published by Houghton Mifflin in 1960. A Guggenheim Foundation Fellowship allowed him to travel with his wife and family in France and Italy for a year in 1962.
Berry returned to accept an appointment as assistant professor at New York University, where he directed the freshman English program from 1962 to 1964. By this time he was actively publishing poetry, earning the Vachel Lindsay Prize from Poetry magazine in 1962. His elegy on John F. Kennedy's death, "November Twenty-six, Nineteen Hundred Sixty-three," first published in The Nation and reprinted with illustrations by Ben Shahn, won special recognition.
In 1964, Berry made a momentous decision to leave the New York literary scene and return to Kentucky, where he purchased a run-down farm near his boyhood home of Port Royal and joined the English department at the University of Kentucky. Berry describes the complex reasons behind this decision in his autobiographical essay, "The Long-Legged House." He rebuilt a small summer house on the banks of the Kentucky River as a study and began to restore Lane's Landing Farm as a working farm. By that time, he was well into his second novel, A Place on Earth (1967), which he completed with the assistance of a Rockefeller Foundation Fellowship. He also published his first poetry volume, The Broken Ground (1964), that same year. Berry's return to Kentucky marked a reaffirmation of local family ties that stretched back five generations to when his great-grandfather had emigrated from Ireland and settled in Port Royal in 1803.
Though his New York friends warned him against returning home, Berry has never regretted his decision. In returning to his native community to reclaim his heritage, Berry made a decision to write about what he knew best: the land and people of his native Kentucky hill country. His fictional Port William was his "undiscovered country," but he had to discover how to write about his native region, how to free himself from the southern romantic clichés and to see things clearly. In The Hidden Wound (1970), Berry writes about the crippling legacy of slavery and the destructive attitudes toward the land that it fostered. The book is also a meditation on race relations and a tribute to Old Nick and Aunt Georgie, black tenants on his father's farm who had influenced Berry as a boy. In a broader sense, the book is about how Americans have exploited both people and land.
Writing and organic farming became twin vocations for Berry. He consciously decided to restore his hillside farm by farming it organically. He claims that his training as a poet helped him to become an organic farmer, to view farming as a way of life and not merely as an exploitation of the land for profit. He views both a farm and a poem as a complex of living structures that "mutually clarify and sustain each other."
Berry was clearly inspired by his return home, publishing numerous poetry volumes in the...
(The entire section is 1,798 words.)