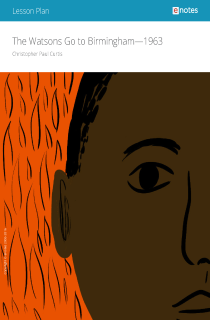 The Watsons Go to Birmingham--1963 eNotes Lesson Plan
*This download is only available with the eNotes Teacher's Subscription
Purchase a Subscription






279 pages
For:
Grade 9
Grade 10
Grade 11
Grade 12
Excerpt From This Document
Welcome to the eNotes Lesson Plan for The Watsons Go to Birmingham—1963 by Christopher Paul Curtis. An eNotes Lesson Plan is a comprehensive set of resources to use in a directed study of the novel. The class lessons, activities, and study questions are designed to engage students; develop their skills in reading, writing, and critical thinking; and further their understanding of the work. By employing the reading checks, multiple-choice questions, essay prompts, and exams, teachers can greatly reduce the amount of time required to plan for instruction and generate class materials.
Plot Summary (Chapter 1)
The novel begins during the winter in Flint, Michigan, when the weather is extraordinarily cold.
Dad humorously tells his three children about the life they could have had if their mother had married another man, Moses Henderson.
Byron and Kenny are sent out to scrape the icy windows of the Watsons' car.
When Byron kisses his image in the car's mirror and is frozen in place, Kenny thinks of all the times Byron has played pranks on him.
After numerous attempts to free Byron, Wilona finally rips him from the mirror.
Ice Breaker (Chapter 1)
Chapter 1 focuses on the introduction of the main characters—Joetta, Byron, Kenny, and their parents. What does this chapter tell you about the family as a whole? How do they get along with one another? Do they seem happy? What are the various personalities in the family? Write for a few minutes, and then discuss your ideas in small groups.
About this Document
eNotes lesson plans have been written, tested, and approved by working classroom teachers. The main components of each plan are the following:
An overview to the work with a summary and character information
Vocabulary match
Reading-check questions
Chapter-by-chapter study questions
Multiple-choice and essay questions
Suggested activities
Complete exams
Each plan is divided into a teacher and a student edition. The teacher edition provides complete answer keys.