Biography
(History of the World: The 20th Century)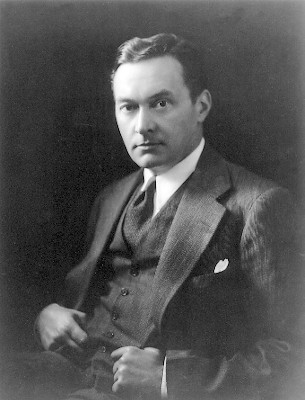 Article abstract: In a career spanning six decades, Lippmann lucidly analyzed current events, advised statesmen, and was author of more than twenty books which perceptively examined the challenges confronting American democracy.
Early Life
Walter Lippmann was born on September 23, 1889, in New York City, the only child of Jacob Lippmann, a wealthy clothing manufacturer and real estate broker, and Daisy Baum Lippmann, a cultivated graduate of Hunter College. Both parents were American-born, of German-Jewish ancestry. Encouraged to develop an appreciation of the arts, young Lippmann was taken by his parents nearly every summer to Europe, where he frequented the great museums.
When he was six years old, Lippmann entered Dr. Julius Sachs's School for Boys, where he excelled in history, geography, French, and the classics. He also attended Temple Emanu-El, a fashionable Reform Jewish congregation. He was confirmed in 1904, yet his religious training had been minimal; as an adult, he displayed little attachment to his Jewish heritage.
With ambitions of becoming an art critic, Lippmann enrolled at Harvard in 1906. The disastrous 1908 fire in nearby Chelsea awakened Lippmann's social consciousness. He joined volunteers who aided the impoverished victims, and he sought out the political writings of Karl Marx and others. He became the Harvard Socialist Club's first president and wrote articles for undergraduate publications. He also developed personal ties with such distinguished faculty as philosophers William James and George Santayana, as well as visiting lecturer Graham Wallas, a prominent British Socialist. Although dissimilar, each thinker would exercise a profound influence on Lippmann's thought.
Completing his degree requirements in three years, in 1910 he abandoned his Harvard graduate philosophy studies to pursue a career in journalism under the patronage of muckraker Lincoln Steffens. He accepted a position on the Boston Common, a small reform weekly published by Ralph Albertson, a Congregationalist minister. (Several years later, in 1917, Lippmann would wed Albertson's beautiful, vivacious daughter, Faye.) Bored by routine tasks, Lippmann persuaded Steffens, then associate editor of Everybody's magazine, to engage him as a research assistant. Soon, Lippmann was writing his own articles and by 1911 had attained an editorial position.
Intensely ambitious and anxious for direct political involvement, Lippmann left his job in 1912 to serve as an aide to the Socialist mayor of Schenectady, New York, the Reverend Mr. George Lunn. Within four months, however, he was disenchanted by the pettiness of local politics and resigned. Nevertheless, Lippmann continued his association with the Socialist Party for another two years, although he never fully subscribed to Marxist theory.
Through Steffens, Lippmann became involved with Mabel Dodge Luhan's Greenwich Village salon. There, he mingled with cultural and political radicals, including former Harvard classmate John Reed, anarchist Emma Goldman, and labor leader William Haywood. In some ways, Lippmann was out of place. A brown-eyed, handsome, muscular (though, when young, slightly chubby) man who stood five feet ten inches in height, Lippmann impressed men and attracted women. Yet in demeanor he was cautious, reserved, and even somewhat conventionally prudish. Although capable of displaying a quiet charm and warmth among intimates and important personages, Lippmann often appeared impatient, aloof, and arrogant to others. Within a short time Lippmann would shed his bohemian connections in favor of a more sedate circle that included statesmen, bankers, and distinguished jurists such as Oliver Wendell Holmes, Jr., and Felix Frankfurter.
Life's Work
Upon leaving his Schenectady post, Lippmann wrote his first book, A Preface to Politics (1913), which called for bold reform and dynamic, creative leadership to meet the social crises that...
(The entire section is 3,249 words.)