Biography
(Masterpieces of American Literature)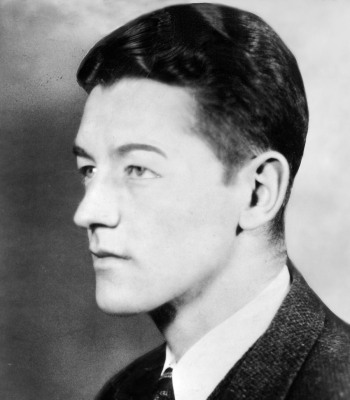 Wallace Stegner was born in Lake Mills, Iowa, on February 18, 1909, the son of George and Hilda Paulson Stegner. His father was a dynamic but unstable dreamer who was always coming up with schemes to strike it rich in some new part of the West. Stegner's mother cherished culture, tradition, polite manners, and all the values of established civilization. She was mismatched to the rowdy, uncouth George Stegner but remained with him until her death from cancer in 1933.
Stegner had an unstable childhood because his family was always moving. They lived in Iowa, North Dakota, Saskatchewan, Montana, and Utah. This is the vast region that Stegner would write about for the rest of his life. He worshiped his mother but had mixed feelings about his improvident father, who sometimes provided the family with luxuries and sometimes led them to the brink of starvation.
Wallace, a sickly and timid boy, buried himself in books. He did so well in school that he was able to enter the University of Utah at the age of sixteen. During this time he began to conceive the possibility of becoming a professional writer, but he wisely continued with his academic work and remained a scholar and teacher throughout his life. He taught at a number of different colleges and universities, gradually building a reputation and achieving financial security. His salary as a professor enabled him to devote time to writing without financial anxiety, and his growing number of publication credits made it easier for him to advance in the academic world. He became known as a distinguished American writer and one of the leading authorities on the American West.
Stegner projected his own psychological conflicts onto his fictitious characters. His mismatched parents had left him with problems about his personal identity. Wallace was so impressed by his own family history that he wrote thinly disguised versions of it in many novels and stories. Stegner was attracted to his father's adventurous spirit and his mother's high moral principles; he spent the rest of his life trying to reconcile these conflicting elements in his own nature through his writing. Perhaps his father's recklessness influenced him to select the risky career of a freelance writer, while his mother's conservative influence may have caused him to seek security by becoming a tenured college professor.
The combination was good for Stegner, who became a famous author and a revered teacher. He established one of the world's best creative writing programs at Stanford University in California and remained associated with it from 1945 until his retirement in 1971. He received many honors and awards during his lifetime, including election to the American Academy of Arts and Sciences and the National Academy of Arts and Letters.
Readers who first become acquainted with Stegner through his fiction often go on to read some of his equally well-written nonfiction, which includes such fine works as Beyond the Hundredth Meridian: John Wesley Powell and the Second Opening of the West (1954) and The Gathering of Zion: The Story of the Mormon Trail (1964). He was also a distinguished essayist as well as a biographer and historian. Many of his best essays were reprinted in The Sound of Mountain Water (1969).
Stegner died in 1993 as a result of injuries sustained in an automobile crash in New Mexico. He left behind a distinguished body of work in both fiction and nonfiction. His best memorial, though, may be Stanford University's Wallace Stegner Creative Writing Center, which he founded and directed for many years.
Biography
(Masterpieces of American Literature)
Stegner loved the landscape and people of the West. He believed in the traditional American virtues of hard work, integrity, and fair play. Although he was as good a writer as any of his more famous contemporaries, he did not achieve spectacular commercial success because he avoided sensationalism. He wrote in the great tradition of American realism and wanted to depict the...
(The entire section is 1,865 words.)