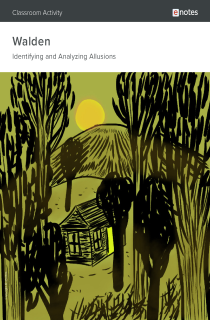 Walden Allusion Activity
*This download is only available with the eNotes Teacher's Subscription
Purchase a Subscription






8 pages
Language Arts,
Literature
For:
Grade 9
Grade 10
Grade 11
Grade 12
Excerpt From This Document
This worksheet gives students an opportunity to practice identifying and analyzing allusions. Allusions broaden the scope of a text and imbue passages with deeper meaning by subtly drawing on unexplained references to literature, history, science, geography, philosophy, mythology, or other aspects of a culture. Allusions are thus a powerful tool often employed by writers and are well worth understanding. In completing this worksheet, students will be able to identify, analyze, and interpret allusions, thereby accessing deeper meanings within the text.
In 1845, Henry David Thoreau decided that he wanted to live a simpler existence. He left his hometown of Concord, Massachusetts, went into the woods, and built a cabin on the shores of Walden pond. After two years at Walden, Thoreau returned home and wrote about his experiences in Walden. The book combines practical guidance for simple living with meditations on his spiritual insights and moments of self-discovery. An avid reader, Thoreau alludes to a vast, multicultural array of writings in his ruminations.
Skills: analysis, close reading, drawing inferences from text, interpreting implications of allusions
Learning Objectives:
In completing this activity, students will
identify different types of allusions and locate examples of allusion within a text;
analyze examples of allusions to determine their purpose in the context of a passage of text;
analyze examples of allusions to interpret their meaning and determine how they inform a passage of text.
About this Document
Our eNotes Classroom Activities give students opportunities to practice developing a variety of skills. Whether analyzing literary devices or interpreting connotative language, students will work directly with the text. The main components of our classroom activities include the following:
A handout defining the literary elements under discussion, complete with examples
A step-by-step guide to activity procedure
An answer key or selected examples for reference, depending on the activity
In completing these classroom activities, students will be able to classify and analyze different literary elements, thereby developing close-reading skills and drawing deeper inferences from the text.