Biography
(Great Authors of World Literature, Critical Edition)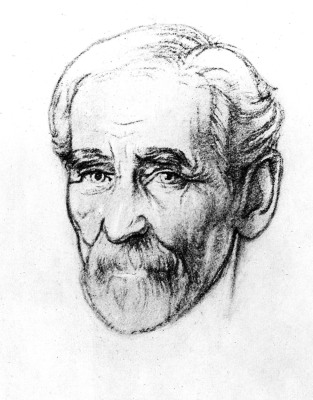 The naturalist and writer William Henry Hudson was born at Quilmes, a short distance west of Buenos Aires, on August 4, 1841. His father, Daniel Hudson, who was of English descent and born in Massachusetts, had left New England under threat of tuberculosis to seek a gentler climate in Argentina. There, he and his wife, Katherine Kimball, who came from Maine, raised a family of six children. William Henry, the fourth of their five sons, was a strong, alert child who rode his pony about the pampas and developed an absorbing interest in the bird life of the great plains. From these contacts with nature he learned much that was of later benefit to him, quite possibly more than he learned from the ill-equipped tutors with whom he had his formal training.{$S[A]Harford, Henry;Hudson, W. H.}
At the age of twenty-eight, Hudson left South America to take up permanent residence in England. During his teens, an attack of rheumatic fever had left him with a weakened heart, and he decided that Argentina was no place for someone who could not lead an active outdoor life. Moreover, the death of his father the year before had severed the last strong tie with his boyhood home.
Hudson's earliest years in England were marked by poverty and loneliness. For a time, he became secretary to an eccentric archaeologist, who often lacked money to pay him. In 1876, he married Emily Wingreave, a gentle woman fifteen years older than Hudson; she admired her husband unreservedly, though never completely understanding his peculiar gifts and qualities. After two experiments in running a boardinghouse failed, the Hudsons settled in a dreary house near Westbourne Park that had been left to Emily Hudson by her sister.
Though he had been writing steadily since arriving in England, literary recognition came to Hudson only slowly. His novel The Purple Land, which came to be regarded as one of his best works, appeared in 1885, and in 1887 came his utopian romance, A Crystal Age. Neither book created much stir, but in 1892 The Naturalist in La Plata received favorable attention; thereafter, Hudson's books won increasing, though still modest, circulation. In 1918 came the history of his childhood, Far Away and Long Ago; though highly regarded, it has probably been less read than Green Mansions, a brightly colored romance of the bird-girl Rima, set against the background of Venezuelan forests. Especially popular in America, it effectively combines Hudson's gifts as a storyteller with his deep feeling for nature.
After Hudson died in London in 1922, his literary reputation grew, possibly because an increasingly urban civilization had learned to value nature more than in the author's own time. Hudson's style is simple and direct. At its best, it embodies the author's almost mystical sense of natural beauty. Very appropriately, Hudson's London memorial is a bird sanctuary, established in Hyde Park in 1925.
Biography
(Survey of Novels and Novellas)
William Henry Hudson was born on August 4, 1841, on an estancia about ten miles outside Buenos Aires, Argentina. His parents were both American, but he had British grandparents on both sides of the family. His parents seem to have been very devoted to their children, and Hudson apparently enjoyed an idyllic childhood on the pampas; his memories of it recorded in Far Away and Long Ago were fond in the extreme. During his adolescence, however, he developed solitary tendencies, drifting away from the company of his siblings. During these years, he gave himself over to the patient and lonely study of nature.
Very little is known of Hudson's later years in South America; his autobiography has nothing to say of his life after he reached adolescence, and Morley Roberts, who wrote a book about Hudson's later life, did not meet him until 1880. By the time Hudson went to England in 1869, his parents were dead and the family had dispersed. Apparently, he had spent a good deal of the previous few years wandering aimlessly in South...
(The entire section is 1,593 words.)