Other Literary Forms
(Literary Essentials: Short Fiction Masterpieces)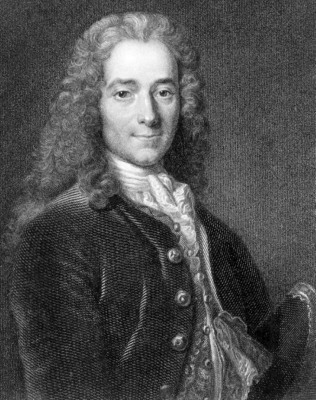 Voltaire's writings are vast, spanning more than one hundred volumes of letters, literature, and scholarship. He wrote in both French and English, publishing his works in several countries, depending on the prevailing political climate.
Voltaire has been remembered most for his incisive short stories, which convey complex philosophical ideas. During his own age, however, he was noted as a political satirist, playwright, and poet. He was a master of the epic poem, and his La Henriade (1728; a revision of La Ligue; Henriade, 1732) revived the popularity of this genre. His plays were renowned throughout France, and dipe (1718; Oedipus, 1761), produced when Voltaire was only twenty-four, received critical acclaim. His major philosophical work, Dictionnaire philosophique portatif (1764; A Philosophical Dictionary for the Pocket, 1765; also as Philosophical Dictionary, 1945), was an ambitious compendium of philosophical ideas and terms. In addition, his historical writings, such as Le Siècle de Louis XIV (1751; The Age of Louis XIV, 1752), have earned for him a reputation as one of the first modern historians.
Achievements
(Literary Essentials: Short Fiction Masterpieces)
During his lifetime, Voltaire was both revered and rejected. He was alternately honored by kings for his brilliance and exiled or imprisoned for his radical political views. He was welcomed into the courts of George I and Princess Caroline of England, Frederick II of Prussia, and Louis XV of France. Louis XV appointed him as Royal Historiographer and as Ordinary Gentleman of the King's Bedchamber in the 1740's. In 1746, Voltaire realized one of his greatest ambitions when he was elected to the prestigious Académie Française. In the 1750's, Frederick II gave him a medal of merit, made him a chamberlain, and considered Voltaire to be his personal tutor and court philosopher until a bitter disagreement caused Voltaire to leave Prussia.
Voltaire's scathing attacks on intolerance, injustice, and superstition scandalized many of the powerful in the government and the French Roman Catholic Church, but his humor, imagination, and daring in expressing his opinions won for him numerous followers as well. When he was living in Switzerland in his later years, people made pilgrimages to his home and stood outside it hoping to catch a glimpse of him. At the end of his life, Voltaire returned to Paris to the acclaim of crowds of admirers. Yet, even in death, he stirred controversy: His body had to be smuggled out of Paris to allow him the decent burial in consecrated ground that the French Catholic hierarchy denied him.
Voltaire was one of the foremost philosophes of the French Enlightenment, and his influence went far beyond his long and successful lifetime. His ideas on the freedom and dignity of the individual are credited with having had a strong influence on the French Revolution of 1789. His satirical and irreverent wit gradually eroded some of the religious and political intolerance of eighteenth century France. Many who have fought for toleration, justice, and equality have looked back to the spirit of Voltaire's writings. He summarized his own sense of satisfaction about the successes of his and other philosophes' writings in a letter to Jean Le Rond D'Alembert dated July 18, 1766, in which he rejoiced thatthe Church of Wisdom is beginning to develop in our neighborhood where, twelve years ago the most somber fanaticism ruled. The provinces are becoming enlightened, the young magistrates are thinking boldly. One is astonished by the progress that human reason has made in so few years.
Other Literary Forms
(Critical Edition of Dramatic Literature)
In addition to his plays, Voltaire wrote many poems, especially odes. Some of his most important longer poems are Poème sur la religion naturelle (1722); La Henriade (1728), an epic poem initially entitled La Ligue (Henriade, 1732); Le Temple du goût (1733; The Temple of Taste, 1734), on literary criticism; Discours en vers sur l'homme (1738-1752; Discourses in Verse on Man, 1764); Poème sur le désastre de Lisbonne (1756;
(The entire section is 3,901 words.)