Virginia Woolf Biography
Virginia Woolf was a troubled writer who is as famous for her struggle with mental illness as for her writing. Though some critics have dismissed Woolf's oeuvre as narrow and elitist (an accusation leveled at Modernist authors in general), many others have heralded her books for expanding the ideas of time and place in traditional narrative. Perhaps even more importantly, Woolf has been recognized for her philosophical musings on literature, sex, and gender. Her seminal nonfiction work, A Room of One's Own, notes the difficulties faced by women writers and places them in historical context. Although the feminist movements of the 1960s and 1970s helped return Woolf to prominence, her own unique talents have sustained her respected position in 20th-century literature.
Facts and Trivia
Woolf's family was full of historical and cultural connections. Her father's first wife was the daughter of William Makepeace Thackeray, and her mother was a descendant of one of Marie Antoinette's ladies-in-waiting.
Woolf was a member of the famous Bloomsbury Group. Its constituents included such literary luminaries as E. M. Forster and Lytton Strachey. The writer and critic Leonard Woolf, who eventually became her husband, was a member too.
Woolf was a devoted diarist. The collected edition of her diary spans five volumes.
Woolf's mental illness has inspired many posthumous diagnoses, most commonly bipolar disorder or manic depression. Her struggles ended with her suicide in 1941, when she filled her coat pockets with stones and walked into the River Ouse.
Woolf's life was fictionalized in Michael Cunningham's 1998 novel, The Hours, which was adapted into a film in 2002. Nicole Kidman won an Oscar for her role as Woolf.
Biography
(History of the World: The 20th Century)
Virginia Woolf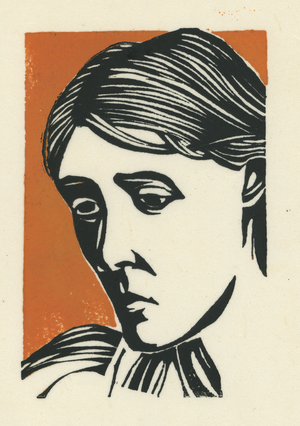 Article abstract: Woolf contributed significantly to prose fiction through her experiments with stream of consciousness and characterization; she also influenced critical thought through her analytical essays and reviews.
Early Life
Virginia Woolf was born on January 25, 1882, into a Victorian world and family. The third child and second daughter of Leslie and Julia Stephen, she was reared in an environment of many people and many privileges. Both her parents had been married before and widowed; therefore, the household consisted not only of Virginia and her two full brothers and sister but also of Leslie's daughter, Laura, who was retarded, and Julia's children, George, Stella, and Gerald Duckworth.
Leslie and Julia Stephen, though not rich, were nevertheless financially comfortable and well connected. Leslie, who had been a don at Cambridge, moved to London in his mid-thirties and became editor of a significant literary journal and eventually wrote an important work on the history of English thought. Additionally, he edited and contributed to the Dictionary of National Biography, a project that established him as one of the leading intellectuals of England. Julia was known for her remarkable physical beauty as well as her attractive and nurturing character. Together, Leslie and Julia created what Virginia later described as a happy childhood for their large family. When Julia died, however, that existence ended for Virginia, and her father's domineering personality shaped the household and molded Virginia's character, in a mostly painful fashion.
Following Julia's death, Virginia suffered her first bout with mental illness. Approximately ten years later, following her father's death and sexual attention from her half brother George, she suffered her second nervous breakdown and also attempted to kill herself by jumping from a window. Her pattern of mental imbalance was thus established by the time she and her full brothers and sister moved to a house in the Bloomsbury section of London.
Photographs of Virginia Woolf during this time and later reveal an elegant woman, graceful, tall, and fragile, a reflection of her mother's intense physical beauty....
(The entire section is 3,902 words.)