At a Glance
Victor Hugo learned an important lesson—don't criticize Napoleon!—when the writer declared Napoleon III a traitor of France. Hugo was exiled in 1851 and granted amnesty in 1859, but he declined and chose instead to continue living in exile until 1870 when Napoleon III was replaced by the Third Republic. Hugo was somewhat of a chameleon and often changed his political views and religion over the years. He was a prolific writer of plays, poetry, essays, and novels. He is most famous for his novels Les Miserables and Notre-Dame de Paris, or The Hunchback of Notre Dame. Hugo was also a strong political figure in France and was elected to the National Assembly and the Senate upon his return to his homeland.
Facts and Trivia
Hugo was very close with his mother and even waited until her death to marry his longtime sweetheart, Adele Foucher. Hugo's mother disapproved of the match.
Hugo's play Hernani (1830) started a riot between conservative and liberal factions in the audience.
The shortest correspondence in history is credited to Hugo and his editor upon the release of Les Miserables. Hugo was on vacation during the time the book was published and was curious as to its success. He telegrammed his editor "?" and was rewarded with the reply "!"
Although he never directly attacked the Catholic church, he was critical of its dogma.
More than two million people marched in Victor Hugo's funeral procession through Paris.
Biography
(History of the World: The 19th Century)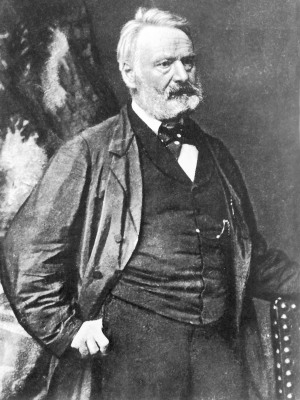 Article abstract: Hugo was one of the great authors of the nineteenth century, and by the force of his personality he became one of its great public figures, using his enormous popularity in the service of many political and social causes. His literary career, spanning six of the most turbulent decades in modern European history, encompassed poetry, drama, the novel, and nonfiction writing.
Early Life
Victor-Marie Hugo was born on February 26, 1802, in Besançon, France, the third son of Joseph Léopold Sigisbert Hugo and Sophie Trébuchet Hugo. At the time of their marriage in 1797, Joseph Hugo was a rising young Bonapartist soldier imbued with the ideals of the French Revolution; Sophie, the orphaned daughter of a Breton ship's captain, had been reared by an aunt of pronounced Royalist sympathies. Thus, in his earliest years, the two poles of contemporary French politics became factors in his life.
An early estrangement of Hugo's parents, the result of personal incompatibilities magnified by the dislocations of his father's military career, became permanent, and Victor and his brother Eugène went with their mother to live in Paris. Though Victor's childhood was touched by the color and the upheaval of the Napoleonic era, by the age of seven he was able to read and translate Latin, and by his tenth year his spotty education had been augmented by trips to Italy and Spain.
After 1814, Hugo's education proceeded along more orthodox lines, but it left him time...
(The entire section is 4,063 words.)