Uncle Tom's Cabin
(American History Through Literature)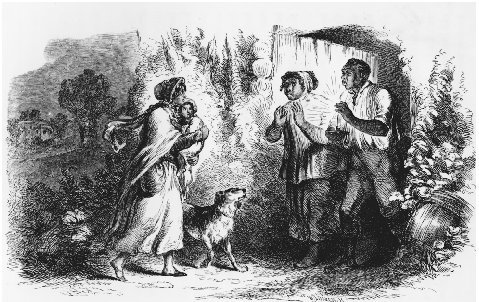 When Uncle Tom's Cabin burst on the American scene, first as a series of installments in the antislavery journal the National Era in 1851 and 1852 and then in 1852 as a two-volume edition published in Boston by John P. Jewett, many readers were overwhelmed by Harriet Beecher Stowe's powerful portrayal of the sufferings of slaves. Within the first eight weeks alone, sales of Uncle Tom's Cabin reached a whopping fifty thousand copies, and six months after that it had sold a quarter of a million volumes. On a scale hitherto unknown in America's publishing history, readers responded to Stowe's novel of sentiment, family, separation, and reunion.
UNCLE TOM'S STORY
In Uncle Tom's Cabin Harriet Beecher Stowe (1811896) was determined to make the case against slavery by using a series of tableaux that appealed to the emotions and to the Christian faith of her readers: "There is no arguing with pictures, and everybody is impressed by them, whether they mean to be or not," Stowe wrote in a March 1851 letter to Gamaliel Bailey, editor of the National Era (Oxford Harriet Beecher Stowe Reader, p. 66). The first of the pictures is of Uncle Tom and his family living as slaves on the Shelby plantation in Kentucky. Because of financial debts, Mr. Shelby decides to sell Uncle Tom along with the son of Mrs. Shelby's personal slave, Eliza, to a vulgar slave trader. Eliza learns of this plan, and in order to save her son Harry, she escapes with him, dramatically crosses the ice floes on the Ohio River, and finally makes her way to a Quaker settlement, where she meets up with her husband, George Harris, who has also run away from his master.
Uncle Tom, however, is put on a steamboat to be sold in New Orleans. On the boat he meets the five-year-old Evangeline, or "Little Eva," whom he saves from drowning. Evangeline convinces her father, Augustine St. Clare, to purchase Uncle Tom. At the New Orleanian St. Clare mansion, Uncle Tom is one of many slaves and serves as a coachman as well as a friend to Little Eva. Eva's aunt, Miss Ophelia, runs the household. In the course of the plot Evangeline becomes ill and eventually dies, but first she converts the recalcitrant slave girl Topsy through Christian love and, in doing so, converts Miss Ophelia to a more compassionate approach to racial difference. Also, in response to Evangeline's death, St. Clare decides to free Uncle Tom, but he is killed before he is able to do so. Eva's mother, an unsympathetic character throughout, cruelly sells Uncle Tom and the other slaves in a slave auction.
Uncle Tom and a beautiful and virtuous slave girl, Emmeline, are bought by the evil master Simon Legree. They travel down the Red River toward Legree's dilapidated Louisiana plantation, where the mulatto Cassy is Legree's mistress and slave. Uncle Tom tries to maintain his Christian beliefs, which waver under Legree's brutal treatment, but he ultimately triumphs. After Uncle Tom is severely beaten for helping another slave in the fields, Cassy comes to his aid. He tells her to escape with Emmeline. Cassy invents an elaborate ploy to trick Legree into thinking that his house is haunted, which so frightens Legree that she and Emmeline are
able to escape. Legree demands that Uncle Tom disclose Cassy and Emmeline's whereabouts and forsake Christianity, but he refuses. He is beaten by Sambo and Quimbo, who eventually convert upon seeing the strength that Uncle Tom's Christian beliefs give him.
George Shelby, the son of the father who had sold Uncle Tom, searches for Uncle Tom, only to find out that he has died at the Legree plantation. On his way back to Kentucky, George Shelby runs into Cassy and Emmeline on a steamboat. The three then meet George Harris's long-lost sister, Madame de Thoux, and discover that Cassy is Eliza's mother. George Shelby returns to the Shelby plantation in Kentucky, where he...
(The entire section is 5,103 words.)