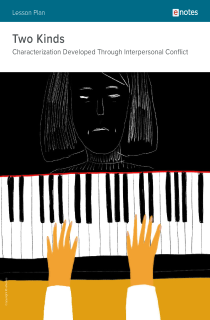 Preview
Two Kinds Character Analysis Lesson Plan
by Tessie Barbosa
Released March 11, 2020
Language Arts and Literature subjects
28 pages
Purchase a Subscription
Grade Levels
Grade 8
Grade 9
Grade 10
Grade 11
Excerpt
Characterization Developed Through Interpersonal Conflict:
This lesson plan focuses on Jing-mei's and her mother's character development through the interpersonal conflicts they experience. Students will analyze key passages in the text, identify Jing-mei's and her mother's conflicting values and desires, and then describe the differences between these characters. In studying their interpersonal conflicts, students will be able to explain Jing-mei's and her mother's characterizations and draw themes from the story.
Learning Objectives: 
By the end of this lesson, students should be able to
define characterization, static characters, and dynamic characters in literature;
explain how the traditions of Chinese culture influence Jing-mei and her mother;
define conflict, explain different types of conflict, and identify interpersonal conflicts in the text;
analyze conflicts between Jing-mei and her mother and explain how the conflicts develop these characters;
identify themes in the story developed through Jing-mei and her mother's interpersonal conflicts.
Skills: close reading, analysis, interpretation, drawing inferences from a text, drawing themes from a text
Common Core Standards: RL.9-10.1, RL.9-10.2, RL.9-10.3, SL.9-10.1
Introductory Lecture:
A motif of duality pervades Amy Tan's short story "Two Kinds." It is evident in Jing-mei and her mother; in Jing-mei and her childhood rival Waverly; and in the dual nature of Jing-mei herself, navigating two cultures simultaneously as the daughter of Chinese immigrants who is coming of age in the United States. "Two Kinds" explores the Chinese-American experience as well as the transition from the certainties of filial obedience to the unknowns of self-discovery.
"Two Kinds" is the story of Jing-mei's growth from obedient child to rebellious teenager and, finally, to reflective adult. Jing-mei's mother immigrated to the US in 1949 after "losing everything in China." Believing that America is rich with opportunity, she assumes that once Jing-mei displays her innate prodigy, every opportunity will be open to her. After months of failing to distinguish herself this way, Jing-mei stops trying altogether. This conflict that results between Jing-mei and her mother drives the story. Mother and daughter hover in a liminal space between perpetrator and sufferer until an explosive confrontation nearly destroys their relationship.
Though it stands alone, "Two Kinds" is actually a chapter of Tan's first novel, The Joy Luck Club, which was published with great success in 1989. The novel was on the New York Times's best-seller list for nine months, was translated into seventeen different languages, and was adapted into a motion picture in 1993. Much of Amy Tan's work as a novelist, memoirist, and children's book author draws from her personal experience as the daughter of Chinese immigrants growing up in the San Francisco Bay Area. Like many of her characters, Tan struggled with living up to her mother's expectations, enduring the premature deaths of her father and brother, and developing her own worldview that balances Chinese and American influences. Tan's writing is known for being both lyrical and direct, deftly addressing her unique cultural experience as well as some universal complexities in parent-child relationships: rejection, acceptance, separation, and reunion.
About
Our eNotes Lesson Plans have been developed to meet the demanding needs of today's educational environment. Each lesson incorporates collaborative activities with textual analysis, targeting discrete learning objectives. We've aligned all of these lessons to particular Common Core standards, and we list the specific standard met by each lesson. The main components of each plan include the following:
An introduction to the text
A step-by-step guide to lesson procedure
Previous and following lesson synopses for preparation and extension ideas
A collection of handouts and worksheets complete with answer keys
Each of these lesson plans focuses on promoting meaningful interaction, analytical skills, and student-centered activities, drawing from the Common Core Standards for English Language Arts and the expertise of classroom teachers. Each lesson includes an instructional guide on how to present the material, engage students in an activity, and conclude the class.