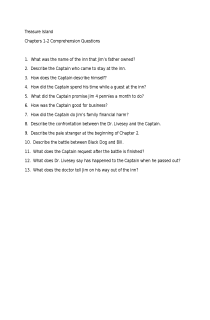 Treasure Island Chapters 1-2 Comprehension Questions
by afi80fl
Release Date: February 12, 2019
Age Levels: Grade 10
Purchase a Subscription
Excerpt
Chapters 1-2 Comprehension Questions
What was the name of the inn that Jim's father owned?
Describe the Captain who came to stay at the inn.
How does the Captain describe himself?
How did the Captain spend his time while a guest at the inn?
What did the Captain promise Jim 4 pennies a month to do?
How was the Captain good for business?
How did the Captain do Jim's family financial harm?
Describe the confrontation between the Dr. Livesey and the Captain.
Describe the pale stranger at the beginning of Chapter 2.
Describe the battle between Black Dog and Bill.
What does the Captain request after the battle is finished?
What does Dr. Livesey say has happened to the Captain when he passed out?
What does the doctor tell Jim on his way out of the inn?
About
Comprehension questions to go along with Chapters 1-2 of Treasure Island.