Biography
(Masterpieces of American Literature)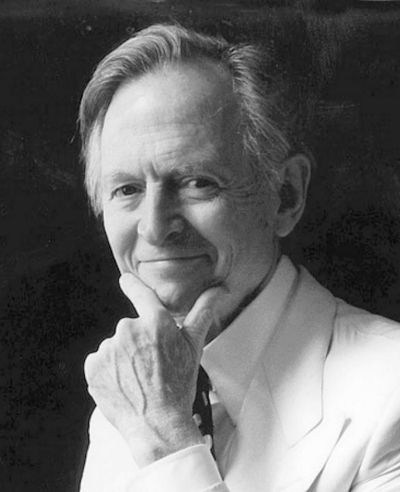 Thomas Kennerly Wolfe, Jr., was born on March 2, 1931, in Richmond, Virginia, to businessman and scientist Thomas Kennerly and Helen (Hughes) Wolfe. Wolfe graduated cum laude from Washington and Lee University in 1951 and went on to earn a Ph.D. in American studies from Yale University in 1957. From 1956 until 1959, he was a reporter for The Union in Springfield, Massachusetts, then worked at The Washington Post from 1959 to 1962. During the 1960's, he began to chronicle the foibles of his generation in a breathless, exciting style that was exuberant and distinctively his own, working as contributing editor for two major magazines: New York and Esquire.
In 1978, he married Sheila Berger, the art director of Harper's magazine, where he has also worked as a contributing artist. His drawings and caricatures, some of which are reproduced in his first collection of essays, have been exhibited. Wolfe studied creative writing at Washington and Lee (a classmate has remembered Wolfe's then preference for writing baseball stories and a fascination with Gray's Anatomy) before turning to American studies at Yale.
Wolfe's involvement with New Journalism began in 1963, after he had been assigned to write a newspaper story on the Hot Rod and Custom Car Show at the coliseum in New York. Esquire later sent him to cover the custom car scene in California; the essay he wrote for Esquire, a benchmark for New Journalism, supplied the title for his first published collection of essays, The Kandy-Kolored Tangerine-Flake Streamline Baby (1965).
Other collections followed: The Pump House Gang and The Electric Kool-Aid Acid Test appeared in 1968. Wolfe continued to produce essay anthologies with flamboyant titles—Radical Chic and Mau-Mauing the Flak Catchers (1970) and Mauve Gloves and Madmen, Clutter and Vine (1976). In 1973, along with E. W. Johnson, Wolfe edited an influential anthology titled The New Journalism, published by Harper & Row, in which he attempted to describe the style of the movement, which combined objective description with a sense of "the subjective or emotional life of the characters."
Wolfe has always been obsessed with the icons of wealth, power, status, and fashion. In two books, The Painted Word (1975) and From Bauhaus to Our House (1981), he examined examples from painting and architecture. His work covers social and political as well as cultural criticism—the government-sponsored poverty program criticized in "Mau-Mauing the Flak Catchers," for example. Wolfe has been criticized for writing such lightweight articles as "The Girl of the Year" while the Vietnam War was in full swing, but he finally caught up with Vietnam in "The Truest Sport: Jousting with Sam and Charlie," which concerned Navy pilots who flew missions over North Vietnam; it was first published in Esquire in October of 1975 and was later included in Mauve Gloves and Madmen, Clutter and Vine.
Wolfe's major achievement during the 1970's was The Right Stuff (1979), an animated history of the American space program and the esprit de corps of the first astronauts, which won both the Columbia Journalism Award and the American Book Award for 1980. This nonfiction achievement was later matched by his sprawling satirical novel The Bonfire of the Vanities (1987), which became a best seller. It was followed by two more novels, also heavily plotted in the Victorian manner: A Man in Full (1998) and I Am Charlotte Simmons (2004). Hooking Up (2000) is a collection of short pieces, taking its title from the term for the casual sexual encounters that have replaced dating among America's young people.
Biography
(Masterpieces of American Literature)
Wolfe revitalized American journalism with his first collections of essays. With Bonfire of the Vanities, A Man in Full, and I Am Charlotte Simmons, he has attempted to reform postmodern fiction by imitating the nineteenth century realist masters in a manner that has more in common with eighteenth century satire . Like his earlier essays, Wolfe's first novel...
(The entire section is 1,583 words.)