Media Adaptations
(Novels for Students)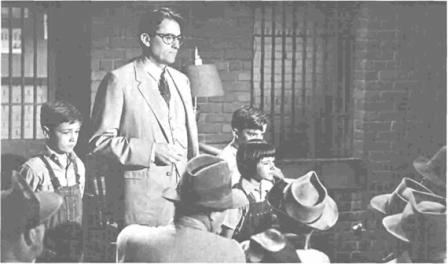 To Kill a Mockingbird was adapted as a film by Horton Foote, starring Gregory Peck and Mary Badham, Universal, 1962; available from MCA/ Universal Home Video.
It was also adapted as a full-length stage play by Christopher Sergei, and was published as Harper Lee's To Kill a Mockingbird: A Full-length Play, Dramatic Publishing Co., 1970.
For Further Reference
(Beacham's Guide to Literature for Young Adults)
Buelle, Edwin. "Keen Scalpel on Racial Ills." English Journal 53 (1964): 658- 661. Discusses racial themes in Lee's novel and in Alan Paton's Cry, the Beloved Country.
Erisman, Fred. "Literature and Place: Varieties of Regional Experience." Journal of Regional Cultures 1 (Fall/Winter 1981): 144-153. Discusses Harper Lee, Robert Perm Warren, and Sarah Orne Jewett as examples of writers who use regionalism in literature.
"The Romantic Regionalism of Harper Lee." Alabama Review 26 (1973): 122-136. Discusses Lee's work in relation to southern romanticism.
Going, William T. Essays on Alabama Literature. University, AL: University of Alabama Press, 1975. Discusses To Kill a Mockingbird as a reflection of Alabama history and culture.
Kibler, James E., ed. Dictionary of Literary Biography. Vol 6, American Novelists Since World War II. Second Series. Detroit: Gale Research, 1980. Discusses Lee's life and writing, briefly analyzes her novel, and summarizes its critical reception.
Newquist, Roy. "Interview with Harper Lee." In Counterpoint. New York: Simon and Schuster, 1964. In this interview, Lee reveals much about her opinions and aspirations, her experience as a writer, and her feelings about the film version of her novel.
Visser, N. W. "Temporal Vantage Point in the Novel." Journal of Narrative Technique 7 (1977): 81-93. Discusses Lee's novel along with many others to show ways time is used and conveyed by novelists.
Wakeman, John, ed. World Authors, 1950-1970. New York: H. W. Wilson, 1975. An excellent brief article on Lee's life and book.
Bibliography and Further Reading
(Novels for Students)
Sources
Adams, Phoebe. Review in Atlantic Monthly, Vol. 206, August 26, 1960, pp. 98-99.
Dave, R. A. "To Kill a Mockingbird: Harper Lee's Tragic Vision." In Indian Studies in American Fiction, edited by M. K. Naik, S. K. Desai, Punekar S. Mokashi, and M. Jayalakshammanni. Karnatak University Press, 1974, pp 311-23.
Ensman, Fred. "The Romantic Regionalism of Harper Lee." In The Alabama Review, Vol. 26, No. 2, April, 1973, pp. 122-36.
Ford, Nick Aaron. Review in PHYLON, Vol. XXII, Second Quarter (June), 1961, p 122.
Going, William T. "Store and Mockingbird: Two Pulitzer Novels about Alabama." In his Essays on Alabama Literature. The University of Alabama Press, 1975, pp. 9-31.
Hicks, Granville. "Three at the Outset." In Saturday Review, Vol. XLIII, No. 30, July 23, 1960, pp. 15-16.
LeMay, Harding. "Children Play; Adults Betray." In New York Herald Tribune Book Review, July 10, 1960, p. 5.
Sullivan, Richard. "Engrossing First Novel of Rare Excellence." In Chicago Sunday Tribune, July 17, 1960, p. 1.
Waterhouse, Keith. Review in New Statesman, October 15, 1960, p. 580.
For Further Reading
Bruell, Edwin. "Keen Scalpel on Racial Ills." In The English Journal, Vol. 53, December, 1964, pp. 658-61. An article that touches on Lee's "warm" portrayal of Scout and the ironic tone in Lee's treatment of the bigoted.
Johnson, Claudia Durst. Understanding 'To Kill a Mockingbird': A Student Casebook to Issues, Sources, and Historic Documents . Greenwood Press, 1994. Johnson's book is the most thorough analysis of the novel to date. She discusses the literary and historical context of the book, then analyzes its form, its...
(The entire section is 1,217 words.)