Thornton Wilder Biography
Thornton Wilder's biggest hit took place on an empty stage. Our Town, which remains one of the most frequently produced plays in America, revolutionized the way audiences thought about the theatrical event. In addition to its stripped-down aesthetic, the play is narrated by a stage manager who oversees the proceedings. Similarly, The Skin of Our Teeth plays with traditional notions of how time is represented theatrically. Wilder had a knack for balancing opposites in his work: simplicity and complexity, humor and pathos, and reality and fantasy. In addition to his playwriting, Wilder cemented his reputation as a novelist with the publication of The Bridge of San Luis Rey, which remains a staple of literature curricula in the United States.
Facts and Trivia
Wilder came from an accomplished family. His brother was a poet and tennis player who taught at Harvard and competed in Wimbledon.
Wilder was actually born a twin. His brother, however, did not survive childhood.
Wilder was well-educated. He studied at both Yale and Princeton.
Wilder is one of the few playwrights to have won multiple Pulitzer Prizes. The first was for the novel The Bridge of San Luis Rey.
Wilder's play The Merchant of Yankees was initially a flop. When he reworked it fifteen years later as The Matchmaker, it was enormously successful. The play was eventually adapted into an even more successful musical version, Hello, Dolly!
Biography
(Masterpieces of American Literature)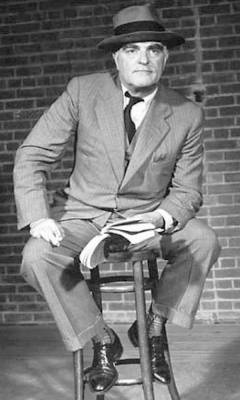 Thornton Niven Wilder was born in Madison, Wisconsin, on April 17, 1897. He was a surviving twin, and all of his life he searched for the alter ego lost at birth. He had an older brother by two years, Amos Niven, a well-known theologian, professor, and writer. He also had three sisters: Charlotte, born in 1898; Isabel, born in 1900, a writer who devoted her life as confidant and secretary to Thornton; and Janet, born in 1910.
Thornton was named for his mother, the talented Isabella Thornton Niven, daughter of a Presbyterian minister; his brother Amos was named for their father, Amos Parker Wilder. Their father, a handsome, robust individual, held a doctorate in political science and was editor of the Wisconsin State Journal. He was a strict Congregationalist whose moral rectitude and constant career moves placed hardships on his wife and family. These served as important influences on Wilder, infusing him with a sense of unworthiness that haunted him all of his life.
Amos Parker Wilder was an uncompromising man whose strong editorial opinions clashed with those of Wisconsin's powerful senator, Robert M. La Follette. By 1906, Amos believed it was time to leave the state and accepted the appointment of American consul in Hong Kong. After living there six months, Isabella and Amos agreed to a temporary separation. She returned to the United States with the children, to live in Berkeley, California. Over the following eight years, Thornton attended various schools as he moved back and forth across the Pacific Ocean, finally completing his high school education at Berkeley High School in 1915. Amos forced Thornton to attend Oberlin College for two years and then transferred him to Yale University, his own alma mater.
Wilder began his writing career in college. Several of his pieces appeared in the Oberlin Literary Magazine and the Yale Literary Magazine. After he graduated from Yale in 1920, he traveled to Rome and attended the American Academy, where he worked on his first novel, "The Memoirs of a Roman Student." Thornton returned to the States to teach French at Lawrenceville Academy during the early 1920's. He also attended Princeton University and graduated with an M.A. degree in 1926.
The same year, Thornton saw the publication of his novel, now retitled The Cabala. In 1927, his first play, The Trumpet Shall Sound, was produced. Both creative efforts met with an indifferent reception. Not so his second novel, The Bridge of San Luis Rey (1927), which was an immediate success and won for...
(The entire section is 3,446 words.)