Thornton Wilder Biography
Thornton Wilder's biggest hit took place on an empty stage. Our Town, which remains one of the most frequently produced plays in America, revolutionized the way audiences thought about the theatrical event. In addition to its stripped-down aesthetic, the play is narrated by a stage manager who oversees the proceedings. Similarly, The Skin of Our Teeth plays with traditional notions of how time is represented theatrically. Wilder had a knack for balancing opposites in his work: simplicity and complexity, humor and pathos, and reality and fantasy. In addition to his playwriting, Wilder cemented his reputation as a novelist with the publication of The Bridge of San Luis Rey, which remains a staple of literature curricula in the United States.
Facts and Trivia
Wilder came from an accomplished family. His brother was a poet and tennis player who taught at Harvard and competed in Wimbledon.
Wilder was actually born a twin. His brother, however, did not survive childhood.
Wilder was well-educated. He studied at both Yale and Princeton.
Wilder is one of the few playwrights to have won multiple Pulitzer Prizes. The first was for the novel The Bridge of San Luis Rey.
Wilder's play The Merchant of Yankees was initially a flop. When he reworked it fifteen years later as The Matchmaker, it was enormously successful. The play was eventually adapted into an even more successful musical version, Hello, Dolly!
Biography
(Masterpieces of American Literature)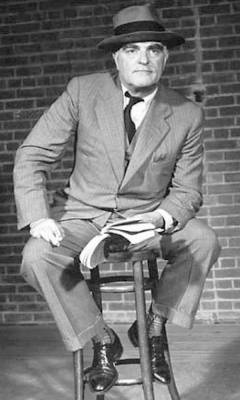 Thornton Niven Wilder was born in Madison, Wisconsin, on April 17, 1897. He was a surviving twin, and all of his life he searched for the alter ego lost at birth. He had an older brother by two years, Amos Niven, a well-known theologian, professor, and writer. He also had three sisters: Charlotte, born in 1898; Isabel, born in 1900, a writer who devoted her life as confidant and secretary to Thornton; and Janet, born in 1910.
Thornton was named for his mother, the talented Isabella Thornton Niven, daughter of a Presbyterian minister; his brother Amos was named for their father, Amos Parker Wilder. Their father, a handsome, robust individual, held a doctorate in political science and was editor of the Wisconsin State Journal. He was a strict Congregationalist whose moral rectitude and constant career moves placed hardships on his wife and family. These served as important influences on Wilder, infusing him with a sense of unworthiness that haunted him all of his life.
Amos Parker Wilder was an uncompromising man whose strong editorial opinions clashed with those of Wisconsin's powerful senator, Robert M. La Follette. By 1906, Amos believed it was time to leave the state and accepted the appointment of American consul in Hong Kong. After living there six months, Isabella and Amos agreed to a temporary separation. She returned to the United States with the children, to live in Berkeley, California. Over the following eight years, Thornton attended various schools as he moved back and forth across the Pacific Ocean, finally completing his high school education at Berkeley High School in 1915. Amos forced Thornton to attend Oberlin College for two years and then transferred him to Yale University, his own alma mater.
Wilder began his writing career in college. Several of his pieces appeared in the Oberlin Literary Magazine and the Yale Literary Magazine. After he graduated from Yale in 1920, he traveled to Rome and attended the American Academy, where he worked on his first novel, "The Memoirs of a Roman Student." Thornton returned to the States to teach French at Lawrenceville Academy during the early 1920's. He also attended Princeton University and graduated with an M.A. degree in 1926.
The same year, Thornton saw the publication of his novel, now retitled The Cabala. In 1927, his first play, The Trumpet Shall Sound, was produced. Both creative efforts met with an indifferent reception. Not so his second novel, The Bridge of San Luis Rey (1927), which was an immediate success and won for him his first Pulitzer Prize. A number of one-act plays, written over a twelve-year period, were published in 1928 under the title The Angel That Troubled the Waters, and Other Plays. The sixteen brief plays offer a fascinating glimpse into Wilder's outlook on philosophy, literature, and history, and into his concept of theatricality that found mature expression in his later works.
The 1930's was a very busy decade for Wilder. In 1930, he wrote a novel, The Woman of Andros, based on Roman playwright Terence's Andria (166 b.c.e.; English translation, 1598). In 1931 he published The Long Christmas Dinner, and Other Plays in One Act, continuing his experiments in nontraditional theater. He adapted two works for the stage—André Obey's Le Viol de Lucrèce (called Lucrece)in 1932 and Henrik Ibsen's A Doll's House in 1937—as showcases for actresses Katherine and Ruth Gordon, respectively. He also found time to teach one semester each year from 1930 to 1936 at the University of Chicago and to publish the novel Heaven's My Destination in late 1934, a work hailed by Gertrude Stein as the quintessential American novel.
Stein's praise of Wilder initiated a correspondence between them that ripened into friendship. Her positive influence on Wilder's further writings is inestimable. Wilder tired of his teaching responsibilities and in 1936 resigned his position at the University of Chicago. He was then free to concentrate on writing, traveling, and visiting with friends. Two years later, he wrote the Pulitzer Prize-winning Our Town, arguably the United States' favorite, most-produced, and most-read play. The production opened to indifferent reviews but soon won over the public.
In 1938, Wilder opened another Broadway production, titled The Merchant of Yonkers, based on Johann Nestroy's Einen Jux will er sich machen (1842). Not an immediate hit, it was revised and retitled The Matchmaker in 1954. The play enjoyed successful revivals in London, Edinburgh, and New York. Later, the work was revised again and became the hit musical comedy Hello Dolly! The original Broadway production ran for only thirty-nine performances, compared with 486 for the 1955 New York production of The Matchmaker and almost three thousand for Hello, Dolly!
During World War II, Captain Wilder (later Lieutenant Colonel Wilder) of the Intelligence Corps of the United States Army Air Corps opened his play The Skin of Our Teeth in 1942, despite misgivings by some of the people involved in the production because of the play's surreal structure. The public loved it, however, and the comedy earned for Wilder his third and final Pulitzer Prize. In 1947, he wrote a short dramatic burlesque called Our Century, which had limited distribution, followed by a novel based on the last days of Julius Caesar titled The Ides of March (1948), widely praised abroad but not in the United States.
During the last years of his life, Wilder received numerous awards, including the 1963 United States Presidential Medal of Freedom and the 1965 National Medal of Literature. He wrote two more novels, The Eighth Day (1967), a much-praised work that he believed was a disappointment, even though it earned the National Book Award, and his final fiction, Theophilus North, published in 1973, a novel more admired by his devoted readers than by critics. Two years later, on December 7, 1975, he died, suffering from the ravages of old age and a debilitating stroke that had partially blinded him.
Biography
(Masterpieces of American Literature)
Wilder remains one of America's most beloved novelists, dramatists, and persons of letters. His books and plays are widely read and staged, continuing to give enjoyment and intellectual stimulation. Wilder was the first author to win Pulitzer Prizes in both fiction and drama. His work includes both a large dose of human suffering and the belief that life is a miraculous gift to be cherished. Wilder was a mature humanist who reaffirmed the dignity of the individual and the uniqueness of American democracy. His classic work Our Town has been performed many thousands of times since its premiere in 1938.
Biography
(Survey of Novels and Novellas)
Thornton Niven Wilder was born in Madison, Wisconsin, on April 17, 1897, the son of Amos Parker Wilder and Isabella Thornton Niven Wilder. His father, a newspaper editor, moved the family to Hong Kong in 1906 when he was assigned a diplomatic post there. The young Wilder attended the Kaiser Wilhelm School, then the China Inland Mission Boys' School, where he harbored a brief desire to become a missionary himself. When his family returned to the United States, settling in California, he continued his education at the Thacher School in Ojai, then Berkeley High School, where he first began to write plays and act in class productions.
In 1915, Wilder entered Oberlin College, a school his father chose because it was less socially elite than his own alma mater, Yale. At Oberlin, Wilder continued his involvement in theatrical productions and contributed prolifically to the college's literary magazine. After two years there, Wilder was allowed by his father to enroll at Yale, where, after a period of homesickness for Oberlin, he again proved himself, in the words of professor and literary critic William Lyon Phelps, to be "a star of the first magnitudeunusually versatile, original, and clever." Wilder graduated with no specific career goals in mind. His father, believing a European experience would be broadening, sent him to study at the American Academy in Rome for a summer. Meanwhile, he searched for a suitable job for his son and found one at Lawrenceville, a preparatory school in New Jersey.
Wilder soon began a novel with the working title Memoirs of a Roman Student, which was published as The Cabala in 1926. In the same year, he took advantage of Lawrenceville's proximity to Princeton University to earn his master of arts degree. He took a year's leave of absence from teaching and began work on a new novel, The Bridge of San Luis Rey, published to enormous acclaim in 1927 and earning Wilder his first Pulitzer Prize.
In 1929, Wilder was invited to teach at the University of Chicago by an Oberlin classmate, Robert Hutchins, who had just been named president of the prestigious Illinois university. Wilder was writing intensely: The Woman of Andros was published in 1930, a collection of short plays in 1931, and Heaven's My Destination in 1934. He remained at Chicago until the mid-1930's, teaching one semester and writing during the next. More and more, he was drawn to the theater. He completed The Merchant of Yonkers, later revised as The Matchmaker (and still later transformed into the Broadway musical Hello, Dolly!) in 1937 and then turned to a more serious play, Our Village, soon retitled Our Town. This play was met with great enthusiasm when it opened in New York in 1938 and earned Wilder his second Pulitzer Prize.
The political upheaval in Europe, soon to involve the United States, found its way into Wilder's next play, The Skin of Our Teeth, which evoked a deep response in audiences both in the United States and abroad; the play was awarded a Pulitzer Prize in 1942. Wilder served in the U.S. Army during World War II, and emerged with his optimism intact and his faith in humanity unshaken. In the late 1940's, Wilder again turned to fiction, dealing with the problem of authority and dictatorship in The Ides of March. This novel reflects his talks with the poet-writer Gertrude Stein, whom Wilder had met in 1934 when Stein was lecturing at the University of Chicago. They shared ideas on the problem of identity and the creation of a believable reality for readers. Stein attempted to deal with these problems in her own book, Ida, a Novel (1941); Wilder took as his subject Julius Caesar.
In 1950, Wilder delivered the Charles Eliot Norton lectures at Harvard, then traveled—always a stimulation and joy for him—and worked on The Alcestiad, his retelling of the Greek legend of Alcestis. In the early 1960's, he retreated to Arizona to write The Eighth Day. By the end of the decade, his pace had slowed. He worked on short plays and completed his quasi-autobiographical Theophilus North. He died in his sleep on December 7, 1975.
Biography
(Novels for Students)
Thornton Niven Wilder was born in Madison, Wisconsin, on April 17, 1897, along with a twin brother who did not survive childbirth. His father was a newspaper editor who joined the Foreign Service, eventually being named as the U.S. consul to Hong Kong in 1906. Wilder lived briefly in Hong Kong, returned to the United States, then went back to the Far East in 1911 when his father was reassigned to Shanghai. He returned to California once more. He attended an exclusive boarding school in Ojai, which he found to be a miserable experience, feeling isolated and being treated as an outcast for being a homosexual. Throughout his life, the isolation he felt during his high school days persisted. He returned home to attend school in Berkeley for two years, and there he started writing plays. During World War I, Wilder served two years in the Coast Guard.
Wilder attended college at Oberlin in Ohio and then transferred to Yale, where his first full-length play, The Trumpet Shall Sound, was published in the prestigious Yale Literary Magazine in 1920, later to be produced onstage in 1926. After graduation he studied archeology in Rome at the American Academy for a year then returned to the United States to attend Princeton, teaching French at a New Jersey high school while working on his master's degree in French, which he earned in 1926. That year, his first novel, The Cabala, was published. The following year saw publication of his second novel, The Bridge of San Luis Rey, which won him the Pulitzer Prize. He won a second Pulitzer in 1938 for his play Our Town and a third in 1942 for the play The Skin of Our Teeth. His second famous play was The Matchmaker, a 1955 Broadway production that was based on Wilder's 1939 play The Merchant of Yonkers and which itself became the basis for the musical Hello, Dolly. In all, he wrote seven novels and over a dozen plays and is credited for translating several foreign plays into English.
Wilder died in his sleep on December 7, 1975, in Hamden, Connecticut, of a heart attack.