Biography
(Great Authors of World Literature, Critical Edition)
Thomas Mann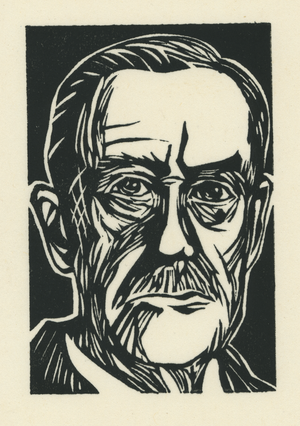 Thomas Mann (mahn), regarded by many critics as one of the outstanding novelists of the twentieth century, was born in Lübeck, Germany, to Johann Heinrich Mann, a grain merchant and senator of Lübeck, and Julia da Silva-Bruhns Mann, the daughter of a German planter in Brazil and his Portuguese-Creole wife. Thomas Mann had two brothers and two sisters; both sisters committed suicide—Carla in 1910 and Julia in 1927. The eldest child of the family, Heinrich Mann, became a distinguished novelist himself. As a child, before his school days, Thomas enjoyed a prosperous and relaxing family life; he loved the seaside holidays at Travemünde and knew the comfortable security of German bourgeois life.
His father wanted Thomas to become a grain merchant like himself. The boy was sent to a military school, where he was thoroughly unhappy. When Thomas was fifteen, his father died suddenly from blood poisoning. The business failed, and Thomas's mother took his brothers and sisters to Munich, where he rejoined them after completing his studies. In Munich he was a fire-insurance clerk. He sold his first story, "Gefallen," the story of a fallen woman, in 1894.
When he tired of business life—after a year—he attended lectures at the University of Munich, auditing courses without officially matriculating. When his brother Heinrich suggested that Thomas join him in Rome, he welcomed the suggestion. The brothers lived in Palestrina, where Thomas began his first novel, Buddenbrooks, the book that was to make him famous and contribute to his winning, in 1929, the Nobel Prize in Literature. The novel portrays a merchant family, and the society of which it is a part, with all its pretenses and weaknesses. Nevertheless, the young writer, faithful to his own experience, was not entirely scornful of that society and regarded the members of it as fundamentally worthwhile.
While Mann was still in Rome, his first volume of short stories, Der kleine Herr Friedemann (little Mr. Friedemann), was published. He returned to Munich and joined the staff of the journal Simplicissimus but resigned before completing Buddenbrooks, on which he continued to work. The book was completed after two and a half years of work and was published at the end of 1900 (with the date 1901). Although the novel did not receive immediate critical attention or popular success, it soon gained momentum and by a year after its publication its young author was famous. The short work Tonio Kröger helped to secure his reputation. Success in literature was then enhanced by success in love: In 1905 he married Katja Pringsheim, the daughter of a mathematics professor. By that marriage he had six children, and of them Erika Mann achieved attention as a war correspondent and actress, while the eldest son, Klaus, distinguished himself as a writer.
Mann's second full-length novel, Royal Highness, the result of an attempt to write a comic novel, was not as well received as Buddenbrooks, but Mann's status as a novelist was not diminished. From his experiences in Venice with his wife in 1911 he gained the emotional impressions which he used with haunting effect in his famous novella Death in Venice. This work is characteristic of the decadent, morbid, poetic, and ironic stories and novels which came from Mann, intermittently, until the new constructive phase marked by the Joseph novels. In a lesser writer the combination of the decadent and the creative would have been not only impossible, but also, if attained, perhaps objectionable. In Mann, however, the author's control gives the material a distinctive dark charm which makes it fascinating. It is generally agreed that this tension in Mann's works is a result of his suppressed homoerotic nature. Although he sustained a marriage, he was celibate much of his life and expressed his tightly contained homosexuality and political beliefs through his fiction.
The outstanding work of this early period derives from...
(The entire section is 2,357 words.)