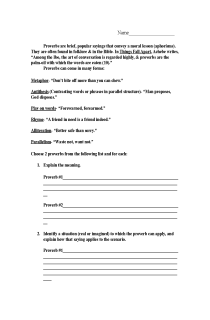 Things Fall Apart: Understanding Proverbs
Download PDF



Excerpt From This Document
Proverbs are brief, popular sayings that convey a moral lesson (aphorisms).They are often found in folklore & in the Bible. In Things Fall Apart, Achebe writes, "Among the Ibo, the art of conversation is regarded highly, & proverbs are the palm-oil with which the words are eaten (10)."
Proverbs can come in many forms:
Metaphor- "Don't bite off more than you can chew."
Antithesis (Contrasting words or phrases in parallel structure)- "Man proposes, God disposes."
Play on words- "Forewarned, forearmed."
Rhyme- "A friend in need is a friend indeed."
Alliteration- "Better safe than sorry."
Parallelism- "Waste not, want not."
Choose 2 proverbs from the following list and for each:
Explain the meaning.
Proverb #1
Proverb #2
Identify a situation (real or imagined) to which the proverb can apply, andexplain how that saying applies to the scenario.
Proverb #1
Proverb #2
You can't judge a book by its cover.
Pride goes before a fall.
A stitch in time saves nine.
Beggars can't be choosers.
Don't bite off more than you can chew.
Actions speak louder than words.
You're barking up the wrong tree.
Don't put the cart before the horse.
You can't have your cake & eat it too.
The acorn doesn't fall far from the tree.
Never put off until tomorrow what you can today.
About this Document
An assignment designed to increase students' understanding and familiarity with the concept of proverbs. I chose commonly used American proverbs to introduce students to the term.