Theodore Dreiser Biography
Theodore Dreiser was praised as "the greatest living realist" of the early twentieth century. Dreiser's novels often reflect the tension between parents who immigrate to the New World and the children they raise under its shifting cultural and moral values. And although his works stand on their own artistic merit, Dreiser is probably almost as famous for the literary censorship that plagued him as much as for his writing itself. For example, Sister Carrie (probably his best-known work, and based heavily on his own sister's affair with a married man) almost did not get published at all because of its perceived immorality. After much wrangling, the novel went on to achieve great critical success, and Dreiser himself had a long career, writing a total of twenty-seven works before he died in 1945.
Facts and Trivia
Dreiser was the ninth of ten surviving children. He grew up impoverished and did not graduate from high school.
A strict Catholic school upbringing turned the author off of Catholicism in general. His struggle with public schools and faith is a frequent theme of his work.
Dreiser was a committed socialist and visited the Soviet Union.
His brother, Paul Dresser (who was born Johann Paul Dreiser) was a famous singer, songwriter and comedic actor.
He suffered writer's block for a period of three years but overcame it to write prolifically in the 1930s and 1940s.
Dreiser worked as the managing editor of a women's magazine called Ev'ry Month. While at the magazine, he wrote book and art reviews, considered social problems, and posed philosophical questions.
Dreiser was interested in returning from his first European vacation on the Titanic but was talked out of it in favor of a cheaper voyage.
Dreiser was a good friend and supporter of birth control advocate Margaret Sanger.
Biography
(History of the World: The 20th Century)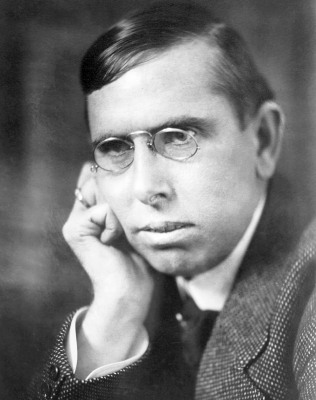 Article abstract: Combining a strong social conscience, a frankly deterministic view of life as a struggle for survival, and an honest representation of human sexuality, Dreiser's fiction helped to shape a generation of American writers and to mute the voice of censorship in American culture.
Early Life
Theodore Herman Albert Dreiser was born August 27, 1871, in Terre Haute, Indiana, the eleventh of a dozen children. His father, John Paul Dreiser, was a German Catholic immigrant who eloped with and married, in 1851, the teenage Sarah Schanab, daughter of a Moravian farm family living near Dayton, Ohio. A weaver by trade, John Paul prospered in Sullivan, Indiana, where, in 1870, the family's initial good fortune disastrously ended. A fire destroyed John Paul's woolen mill; while he was rebuilding the mill, a heavy beam fell on his head, seriously injuring him. During his convalescence, the family lost virtually everything they owned.
Nearly penniless, the Dreisers moved to Terre Haute, where Theodore was born. The father's fortunes never improving, Theodore was reared in grim poverty as the family underwent a succession of moves. His early education came in Catholic parochial schools and the public schools of Warsaw, Indiana, where his family settled in 1884. The most telling aspects of Dreiser's boyhood were the persistent financial hardship, the numerous family removals, and the ardent asceticism of his father's German Catholic orthodoxy. Consequently, Dreiser came to resent bitterly his social and economic status, to develop a sense of insecurity, and, ultimately, to reject Catholicism and later religion itself.
At age sixteen, Dreiser left home to seek his fortune in Chicago. Awkward and tall, spindly and weak, he hardly cut a dashing figure. Edgar Lee Masters, in The Great Valley (1916), described him in a poetic portrait:

Jack o'Lantern tall shouldered,


One eye set higher than the other,


Mouth cut like a scallop in a pie,


Aslant showing powerful teeth.


Swaying above the heads of others.


And the eyes burn like a flame at the end of a funnel.

(The entire section is 4,024 words.)