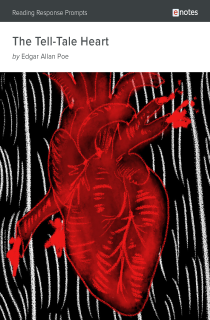 The Tell-Tale Heart eNotes Reading Response Prompts
*This download is only available with the eNotes Teacher's Subscription
Purchase a Subscription






9 pages
Language Arts,
Literature
For:
Grade 7
Grade 8
Grade 9
Grade 10
Grade 11
Excerpt From This Document
As the story begins, the narrator admits to being "very dreadfully nervous," but he denies being mad. What is the first argument he offers to show that he is not insane? Explain how his argument and the examples he offers counter rather than support his assertion that he is sane.
Describe the obsession that overwhelmed the narrator in the past. Why did he decide to murder the old man? How does his motive for murder also support the idea that he is insane?
The narrator defends his sanity by explaining how clever he is. Do you think there is any relationship between sanity and intelligence or cleverness? Why or why not?
As the narrator describes how cleverly he put his head through an opening into the old man's room, he says, "Oh, you would have laughed to see how cunningly I thrust it in!" Since the narrator is telling his story (not writing it), to whom do you think he might be speaking? What does he assume about his listener? Do you think he is right about whoever is hearing his story? Why or why not?
What is there about one of the old man's eyes that disturbed the narrator? What could logically explain the condition of the old man's eye? What illogical belief did the narrator harbor about the eye?
Explain specifically what drove the narrator to confess his crime to the police. Describe what he experienced physically and mentally prior to shrieking, "I admit the deed!"
About this Document
These eNotes Reading Response Prompts are designed to encourage your students to read more effectively and with more pleasure by giving them interesting subjects to write about after they have read. Many of the prompts will take them directly into the text, while others will give them an opportunity to express their thoughts and feelings and to reflect on their own experiences.
A second purpose of the eNotes Reading Response Prompts is to facilitate instruction in ways that work for you in the classroom. The organization of the prompts makes them easy to use, and the content and construction of the prompts are designed to develop students' knowledge and academic skills.