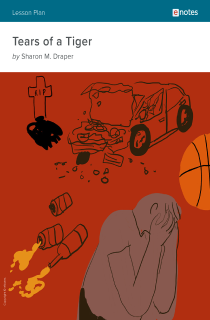 Tears of a Tiger eNotes Lesson Plan
*This download is only available with the eNotes Teacher's Subscription
Purchase a Subscription






117 pages
Language Arts,
Literature
Excerpt From This Document
Learning Objectives: 
By the end of this unit, students should be able to
describe the phases of Andy's gradual decline and the factors contributing to his suicide;

compare and contrast the ways in which B. J., Tyrone, and Andy cope in the aftermath of the car accident;

identify the ways in which the adults in Andy's life both support him and fail him;

contrast the ways in which Keisha, Rhonda, and Marcus approach their schoolwork with how Andy, Gerald, and Tyrone approach theirs;

explain the importance of self-expression for teens and contrast how teens talk to each other as opposed to how they talk to adults;

understand how the different points of view offered by the novel contribute to both the novel's message and the reader's understanding of the story;

describe the atmosphere of Hazelwood High and discuss how the experience of Hazelwood is different for the black students, like Andy and his friends, than it is for the white students;

discuss the role of race in Andy's self-image and his behavior at school and in his parents' self-image and their behavior at work and at home;

identify the effects of a teen's suicide on the lives of classmates, friends, and family;

discuss the importance of forgiveness, compassion, and empathy when dealing with people who are different from you or who have been through different experiences.
Introductory Lecture:
Sharon M. Draper had been a teacher for over twenty years in Cincinnati when she accepted a student's challenge and entered Ebony Magazine's 1991 short story writing contest. Her story, "One Small Torch," was chosen as the winner from among 20,000 entries. That first success spurred Draper to write, combining her passion for teaching, her love of stories, and her conviction that the classics often did not strike a chord with her students. Her first novel, Tears of a Tiger, was published in 1994. From her experience as an African-American teacher in a diverse public school, Draper consciously chose to give voice to black males in her writing and accomplished it quite movingly in this novel about a seventeen-year-old black teen who kills his best friend in a drunk-driving accident; readers identified with the story of Andy Jackson and his friends. Draper's novel was called "strong, vivid and true" by School Library Journal. In 1995, the American Library Association selected Tears of a Tiger as Best Book for Young Adults, and the novel received the Coretta Scott King Genesis Award.
As soon as students open Tears of a Tiger, they will notice something immediately that distinguishes it from most novels they read in class. The story has no narrator; the novel is a collection of dialogues, therapy sessions, diary entries, documents, homework assignments, and letters. It also is written in the manner some young black teenagers speak. One reviewer said Draper's literary approach gives the book a "raw immediacy" that puts readers into the story, as if they were in the halls, the cafeteria, and the classrooms of overcrowded Hazelwood High. Once there, they eavesdrop on Andy Jackson and the people in his life: Keisha, his wise and loving girlfriend; B. J. the jokester; troubled and abused Gerald; and Tyrone, the handsome basketball player who is newly smitten with Rhonda, Keisha's best friend.
The novel begins when Andy Jackson and Rob Washington, his best friend and a star basketball player, go out to "chill" after a game on November 7; Tyrone and B. J. are along for the ride. Andy is driving drunk when the car hits a retaining wall and bursts into flames; Rob does not survive the crash. Andy's grief over Rob's death, along with his guilt for causing it, send Andy into a spiral of despair and depression. Through Andy's sessions with a young black psychologist, we learn about other factors contributing to Andy's mental state—his difficulty communicating with his family and the racial bias some teachers and counselors exhibit at Hazelwood High. Readers are kept guessing, almost to the very end, as to whether Andy will heal from the tremendous pain and guilt caused by the accident or whether his emotions will destroy him.
Tears of a Tiger is not a moralistic tale of the consequences of drinking and driving; it is a full-bodied exploration of the lives of ordinary teens. All teens, regardless of their race or background, will empathize with the characters and identify with the issues Draper raises in the novel: the struggle for social acceptance, the demands of friendship, the difficulty of communicating with parents, and the heady experience of falling in love. The issue of teen suicide is explored, as well, through Andy's mental turmoil and emotional anguish. As the characters struggle to cope in the aftermath of Rob's death, courage is required in "learnin' to live." Ultimately, that is the job of all young people—whether they face tragic circumstances, as Draper's characters do in the novel, or contend with the day-to-day realities of being a teen in a troubled world.
About this Document
Our eNotes Comprehensive Lesson Plans have been written, tested, and approved by active classroom teachers. Each plan takes students through a text section by section, glossing important vocabulary and encouraging active reading. Each is designed to bring students to a greater understanding of the language, plot, characters, and themes of the text. The main components of each plan are the following:
An in-depth introductory lecture
Discussion questions
Vocabulary lists
Section-by-section comprehension questions
A multiple-choice test
Essay questions
Each plan is divided into a teacher and a student edition. The teacher edition provides complete answer keys for all sections, including example answers for the essay questions.