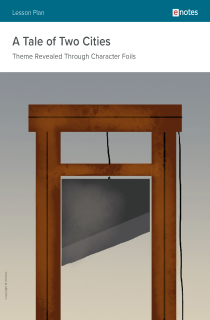 A Tale of Two Cities Character Analysis Lesson Plan
*This download is only available with the eNotes Teacher's Subscription
Purchase a Subscription






20 pages
Language Arts,
Literature
For:
Grade 9
Grade 10
Grade 11
Grade 12
Excerpt From This Document
Theme Revealed Through Lucie Manette and Madame Defarge as Character Foils in A Tale of Two Cities:
This lesson plan focuses on the characterizations of Lucie Manette and Madame Defarge and their development as character foils in the novel. Students will identify and contrast their characters and explain how each woman's traits emphasize opposite traits in the other. By determining how Lucie and Madame Defarge are developed as character foils, students will be better able to describe themes in the novel, especially regarding revolution as a means of addressing social injustice.
Learning Objectives:
By the end of this lesson, students will be able to
identify and describe the lives and characters of Lucie Manette and Madame Defarge; 
define a literary foil and describe how Lucie Manette and Madame Defarge are developed as character foils in the text; 
contrast Lucie Manette's and Madame Defarge's feelings, thoughts, and actions at key turning points in the novel; 
identify and describe major themes that emerge from Dickens's characterizations of Lucie Manette and Madame Defarge.
Skills: close reading, character analysis, contrasting, drawing themes from a text, collecting evidence through internal research
Common Core Standards: RL.9-10.1, RL.9-10.2, RL.9-10.3, SL.9-10.1
Introductory Lecture:
"It was the best of times, it was the worst of times. . . ." Beginning with one of the most famous phrases in world literature, A Tale of Two Cities draws readers into a compelling tale of love, redemption, political intrigue, and violence at the time of the French Revolution in 1789. Set in Paris and London, the novel depicts the growing social and political unrest that ultimately leads to the revolution in France and details the catastrophic results of the anarchy it creates during the Reign of Terror.
The plot follows the Manette and Evrémonde families, beginning with the 1775 release of French physician Dr. Alexandre Manette from the infamous Bastille prison, where he had been held in solitary confinement for eighteen years by the wicked Marquis St. Evrémonde. Reunited with his daughter, Lucie, in England, Dr. Manette's integration into English society is complicated by her subsequent marriage to Charles Darnay, who is revealed to be the nephew and heir of the Marquis. Prior to meeting Lucie, Charles had renounced his corrupt aristocratic family, had adopted his mother's maiden name, and had made a new life for himself in England. When Charles leaves Lucie's side and returns to France to rescue a former servant from the violence of the French Revolution, he is captured and condemned for the Evrémonde family's crimes, but his life is spared when Sydney Carton, his look-alike English counterpart, takes Darnay's place at the guillotine.
While Dr. Manette, Charles, and Lucie pursue their lives in London, the French Revolution erupts in Paris, where Madame Defarge emerges as a ruthless, implacable revolutionary, seeking personal revenge through the annihilation of the aristocracy and its supporters. The contrast between the vengeful Madame Defarge and Lucie Manette, a virtuous, loving young woman, is emphasized through their characterizations and supports major themes in the novel.
A Tale of Two Cities was initially published as a serial in Charles Dickens's circular, All the Year Round, with the final chapter appearing November 15, 1859; the text was then published as a single volume. Dickens's only historical novel, the book was inspired by social and economic conditions that existed in England at the time and that Dickens and many of his contemporaries found disturbingly similar to conditions in France that had led to revolution. In the mid-1800s, the advent of the Industrial Age was reshaping English society. Industrialization was replacing agriculture as the base of the country's economy, and demographics were shifting rapidly as the populations of cities, especially London, swelled with those seeking factory work. Factory workers were paid minimal wages and lived in deplorable conditions, instigating fears among the English middle class and lower class that industrialists would control government policy to enrich themselves at the expense of an increasingly impoverished working class.
Thus, with revolution on his mind, Dickens wrote A Tale of Two Cities. The novel is not a political treatise, however; it is an examination of humanity during extraordinary circumstances as the characters chart a course through chaos and danger. The novel is also a love story and a thrilling adventure that plays out in two countries as it develops Dickens's themes of courage, faith, sacrifice, social justice, and moral redemption.
About this Document
Our eNotes Lesson Plans have been developed to meet the demanding needs of today's educational environment. Each lesson incorporates collaborative activities with textual analysis, targeting on discrete learning objectives. We've aligned all of these lessons to particular Common Core standards, and we list the specific standard met by each lesson. The main components of each plan include the following:
An introduction to the text
A step-by-step guide to lesson procedure
Previous and following lesson synopses for preparation and extension ideas
A collection of handouts and worksheets complete with answer keys
Each of these lesson plans focuses on promoting meaningful interaction, analytical skills, and student-centered activities, drawing from the Common Core Standards for English Language Arts and the expertise of classroom teachers. Each lesson includes an instructional guide on how to present the material, engage students in an activity, and conclude the class.