Biography
(History of the World: The 20th Century)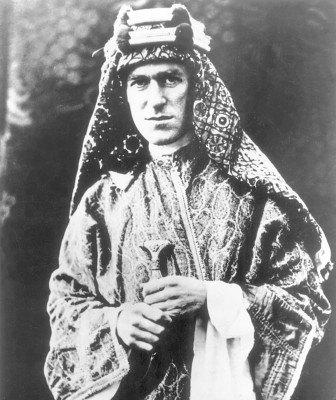 Article abstract: Lawrence introduced striking innovations when he directed the operations of Arab irregular forces during the desert campaigns of World War I in 1917 and 1918; he then captured the imagination of much of the world by describing his exploits in memoirs that have been called "one of the greatest modern epics in the English language."
Early Life
The second of five sons, Thomas Edward Lawrence was born in Tremadoc, Wales, on August 16, 1888, into a household sustained by what charitably could be called a bigamous union. His father, Thomas Robert Tighe Chapman, from a landed family in Ireland, had previously married another woman, by whom he had four daughters, before he decided that life with her was insufferable. After a time, he ran off with Sarah Junner, the family's governess; over the years they took up residence at various locations. The father sometimes used the surname "Lawrence," and it was chosen for each of their children when birth certificates were prepared. It remains unclear precisely when any of the boys learned of the irregular circumstances surrounding their origins; certainly when it came, the knowledge was a burden to them in later life. It would seem that whatever influence was exerted by the parents came largely from their mother, who attempted with limited success to instill her religious precepts in her children.
A somewhat greater semblance of settled family life was achieved when they moved to Oxford in 1896. As a boy Lawrence received much of his early education at Oxford High School; evidently, he was also fond of strenuous exercise and liked pranks of every sort. He further conceived an interest in castles and military architecture, and beginning in 1906 he spent parts of three summers in France, where he went about by bicycle to visit historical sites. In 1907, he entered Oxford University, where he read modern history. Persuaded that the examples set by fortifications in Western Europe had influenced the development of such constructions farther east, he proposed a thesis on this topic, and in 1909 he traveled alone to Syria, Palestine, and other parts of the Middle East. In 1910, he was awarded first-class honors in his chosen field; in 1936, his thesis, with letters and other materials, was posthumously published in two volumes as Crusader Castles. He received a grant to facilitate further research and travel in conjunction with an archeological expedition supported by the British Museum. He also worked with Charles Leonard Woolley, an important specialist on the ancient Near East; much of their time was spent at a site on the northern course of the Euphrates, where artifacts of Hittite settlements were coming to light. Other work farther south was carried out under the auspices of the Palestine Exploration Fund. Two volumes on work at these locations, published in 1914 and 1915, listed Lawrence as a coauthor. Much of the time, when he was not attending to excavations, Lawrence explored the countryside; at times he amused himself by devising odd provocations to arouse the suspicions of Ottoman officials and German agents in the region. Along the way, he acquired a passable knowledge of conversational Arabic, enough to make himself understood, though not with the fluency or grace of a native speaker.
Except in certain notable but indefinable respects, Lawrence did not present an imposing figure. He was about five feet, five inches, and seemed yet more diminutive as his head was disproportionately large in relation to his body. He had light blond hair and a fair complexion, which eventually became a reddish brick hue from prolonged exposure to the Levantine sun. He had a strong, pronounced jaw and a broad, curved nose; his lips were thick and sensuous. Many observers, however, testified to the uncanny character of his clear blue eyes, which at times suggested visionary or hypnotic qualities. On the other hand, he had a high-pitched...
(The entire section is 3,762 words.)