Stephen Crane Biography
Stephen Crane attended both Lafayette College and Syracuse University, but he never actually earned a degree in his short life. He started off as a journalist and freelance writer but soon turned to writing his own novels. His most famous work, the Civil War-inspired The Red Badge of Courage, has been read by millions and lauded as one of the great American novels. Although Crane never served in battle himself, he studied extensively and interviewed many war veterans before writing Courage. In 1897, he was shipped to Cuba on a writing assignment and was shipwrecked near Florida. While there, he met his future wife, and together they served as war correspondents in the Greco-Turkish War of 1897. Crane ultimately used the experience to write Active Service, one of his last novels.
Facts and Trivia
Crane published his first novel, Maggie: A Girl of the Streets, with money borrowed from his brother. He published it under the pen name Johnston Smith. The bleak story of prostitution did not prove a commercial or critical success at the time.
Crane's wife, Cora Stewart-Taylor, owned a brothel in Jacksonville, Florida, called Hotel de Dream. She was also a writer.
Stephen Crane is considered the first naturalistic American writer. As a literary theory, naturalism draws on scientific ideas (such as Charles Darwin's theory of evolution) and applies them to fiction.
Crane cited the American press's ridicule of his first collection of poetry, The Black Rider and Other Lines, as one of the main reasons he moved to England with Cora in 1897.
The cover of the Beatles' Sgt. Pepper's Lonely Hearts Club Band album features a small picture of Stephen Crane, along with many other celebrities.
Biography
(History of the World: The 19th Century)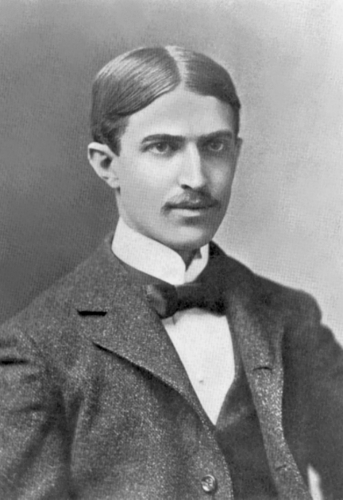 Article abstract: Crane is best remembered for his war novel, The Red Badge of Courage (1895); he also wrote estimable poetry and more than a dozen other novels and collections of stories.
Early Life
Stephen Crane, the youngest son of a youngest son, was the last of fourteen children born to the Reverend Jonathan Townley Crane and his wife, Mary Peck. Crane's father was a presiding elder of the Newark, New Jersey, district of the Methodist Church (1868-1872) when Stephen was born and served in a similar capacity in the Elizabeth, New Jersey, district of the church from 1872 until 1876. Because Methodist clergymen were subject to frequent transfer, the young Stephen was moved from Newark to Paterson, New Jersey, before he was old enough to attend school and to Port Jervis, New York, shortly before he began school. His The Third Violet (1897) and Whilomville Stories (1900) are set in villages modeled after Port Jervis.
Crane's father died in 1880, when the boy was eight years old, and, in 1883, Stephen and his mother moved to Asbury Park, New Jersey, a seaside resort some sixty miles from New York City, to be near the Methodist camp community of Ocean Grove, a town adjacent to Asbury Park, which Jonathan Crane had been instrumental in establishing. Stephen's brother Townley already ran a press bureau in Asbury Park, and soon their sister Agnes moved there to teach in the public schools.
As Stephen strayed from the religious teachings of the Methodist Church, his mother became concerned about his spiritual welfare, and, in 1885, she sent him to Pennington Seminary, some ten miles from both Trenton and Princeton, in the hope that he would receive a solid academic background and would simultaneously grow closer to the Church. Crane's father had been principal of Pennington Seminary for the decade from 1848 to 1858, and his mother had spent the first ten years of her marriage at Pennington.
Stephen, a handsome, dark-haired youth with a prominent nose, sensuous lips, and deep, dark eyes, rankled under Pennington's strong religious emphasis. In 1888, he enrolled in the Hudson River Institute in Claverack, New York, a coeducational institution with a military emphasis for its male students. It was perhaps...
(The entire section is 4,158 words.)