Biography
(Literary Essentials: Great Poems of the World)
Stéphane Mallarmé was born into a middle-class Parisian family of government administrators. His mother died when he was five. He was taken in by his maternal grandparents, who placed him in a series of boarding schools from the time he was ten. This forcible separation from a family environment was particularly painful because it deprived him of the company of his only sibling, his sister Maria, who was younger by two years. He continued to write to her until her death at the age of thirteen. This disappearance of mother and sister, both idealized figures strongly linked in Mallarmé's mind to the religious life, seems to have caused Mallarmé to abandon conventional religious beliefs and to seek in his adolescent poetry a way of preserving the memory of these beloved presences. At the same time, Mallarmé's active sexual life seems to have left him disappointed and perhaps guilty about physical pleasure.
In 1860, Mallarmé took a position with the French administration, then went to London in 1862 with a young German woman, Maria Gerhard, whom he married in 1863. At the end of that year, he took his first position as a teacher of English. His entire professional career consisted of a series of appointments in secondary schools, first in the provinces and then, after 1871, in Paris. He retired in 1894. During the 1870's, Mallarmé published translations, textbooks, a women's fashion magazine, and his own poetry.
His period of great celebrity began around 1884, when Paul Verlaine and Joris-Karl Huysmans acclaimed him in their own works. During the last fifteen years of his life, Mallarmé exercised enormous influence on the younger poets, who hailed him as the prophetic exemplar of Symbolism. Mallarmé himself did not seek honor or public attention. He left the publication of manifestos to his followers and preferred to devote his time to research for his oeuvre, his great "work," which he never finished. His poetic works, considerable as they are, did not live up to his ambition, although his manuscripts give evidence of intense labor.
Biography
(Masterpieces of World Literature, Critical Edition)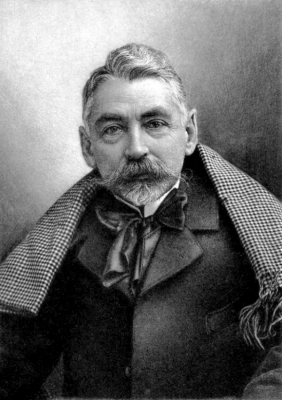 Stéphane Mallarmé (ma-lahr-MAY) was born on March 18, 1842, in Paris at 12 rue Laferrière. He was the son of Numa-Florence-Joseph Mallarmé, a government administrator, and his wife, the former Elizabeth-Félicie Desmoulins. His mother died when the poet was only five years old, and Stéphane was then raised by his grandmother. He later attended the Lycée de Sens, where he began to write his first poetry.
In 1861, when the second edition of Charles Baudelaire's Les Fleurs du mal (Flowers of Evil, 1931) was published, Mallarmé came under this literary influence that would inspire much of his early composition. The following year, he also discovered the poetry of Edgar Allan Poe and published his own first poetry and prose in the small periodical Le Papillon. In 1862, Mallarmé was attracted to a young German girl, Maria Gerhard, with whom he traveled to London. When Mallarmé returned to France, he was certified to teach English in secondary schools, an employment which he pursued and which supported his poetic activity through much of his life.
On August 10, 1863, Mallarmé married Maria Gerhard. They moved to Tournon, in the Ardèche region of France, where Mallarmé began teaching English. They moved again, to Avignon in 1867 and then back to Paris in 1871. Finally, in 1875 they settled on the rue de Rome, where over the years Mallarmé would entertain many of the leading writers of Paris. From 1880 on, he was at home there every Tuesday for literary conversations. It is quite unfortunate that detailed records of these discussions were not made, as they undoubtedly explored many issues central to the evolution of modern poetry.
Mallarmé's daughter, Geneviève, was born on November 19, 1864, and a son, Anatole, followed on October 25, 1871. Mallarmé would be deeply upset by Anatole's death just before his eighth birthday on...
(The entire section is 1,874 words.)