Author Profile
(Society and Self, Critical Representations in Literature)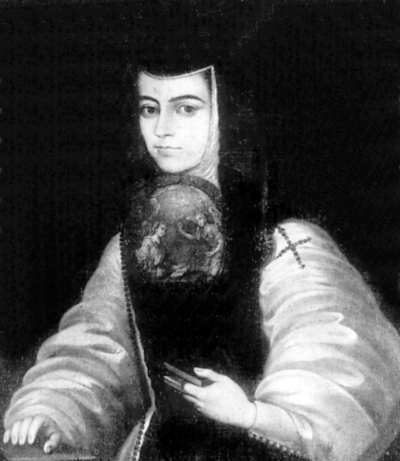 Juana Inés de Asbaje y Ramírez de Santillana was born in colonial Mexico, a closed society dominated by the Catholic church and by men. There was little room for an intelligent, educated woman. Reading by the age of three, as a child she pestered her mother, pleading to be dressed as a boy and sent to Mexico City to study at the university. Sor Juana was, however, obliged to educate herself by reading in her grandfather's library.
Sent to Mexico City to live with relatives at age eight, Sor Juana was invited into the court of the viceroy as an intellectual companion for his wife. At court, Sor Juana wrote poetry for social and political events associated with the court and the clergy. From the beginning she displayed mastery of all forms of baroque poetry, using metaphors from her studies in music, painting, mathematics, logic, theology, and physics. The poetic style of her time was learned and complex; she was able to meet this challenge.
At seventeen, Sor Juana entered the convent of St. Jerome, taking her religious name, by which she would be best known. At the convent she enjoyed some freedom to continue her education through reading. She eventually amassed a library of four thousand volumes. She also continued writing poetry, prose, and drama. From the first, her writing expressed her strong belief in the moral and intellectual equality of women and their right to an education. A famous quatrain accuses "Stupid men who accuse/ Women without any grounds,/ Without seeing that you are the cause/ Of the very thing that you blame." In a love poem she claims: "Neither being a woman nor absent/ Keeps me from loving you,/ For you know that souls/ Ignore distance and sex." In poems written for the feast of the Virgin Mary, Sor Juana presents the mother of Jesus as a "professor in the highest theological chair," and "the great female astronomer."
In 1690, Sor Juana wrote a...
(The entire section is 506 words.)