Sir Walter Scott Biography
Sir Walter Scott, as one of his country's earliest prominent writers, helped establish Scotland's place in the literary canon. Scott was a prolific poet as well as the author of numerous historical romances and adventures. Despite his early success and the influence he exerted over nineteenth-century English literature, time had not always been kind to Scott. Later critics denounced his works on grounds of structure, tone, and content. Yet, in many ways, Scott was at the forefront of the romantic, larger-than-life style that pervaded the late nineteenth century. A renewed interest in Scott has overlooked his faults and helped cast his work in a more positive light. He remains a significant figure in both the Scottish canon and literature as a whole.
Facts and Trivia
When he was just two years old, Scott became afflicted with polio. Though he survived the illness, his right leg would be unusable for the rest of his life.
Writing was not Scott's first career choice. He studied law, which he practiced after completing his studies. He later served as sheriff-deputy of his county.
In the second half of the twentieth century, Scott's novels inspired two highly acclaimed films: Ivanhoe (based on the novel of the same name) and Rob Roy.
A song commonly referred to as "Schubert's Ave Maria" is in fact a musicalization of Scott's "The Lady in the Lake."
Scott's works are often attributed with popularizing the kilt as a staple of Scottish garb.
Biography
(History of the World: The 19th Century)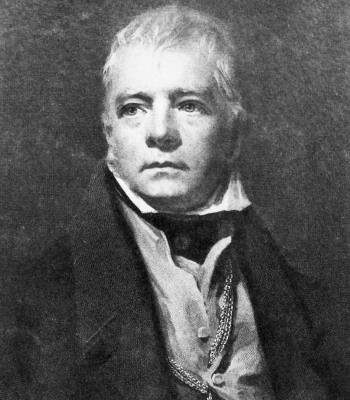 Article abstract: Scott's narrative poems about the stirring events in Scottish and medieval history were immensely popular in the nineteenth century, and in fiction he created the genre of the historical novel.
Early Life
Walter Scott counted among his ancestors many notable and colorful figures from Scottish history, and during his early years, after an attack of polio crippled his right leg, he spent hours listening to family stories and songs about their exploits. Even as a young boy, he collected these ballads and folktales, which vividly presented the past. He would later use this knowledge in the poems and novels which won great acclaim during his lifetime, and which endure to this day as classics of English literature.
After being educated at home, Scott was sent in 1778 to high school in Edinburgh. He impressed both his teachers and his peers with his intelligence, his good nature, and his ability to tell stories; he was less accomplished in his scholarship. In 1783, he entered the Old College, but his interest remained the study and pursuit of ballads. In 1786, he joined his father, who was a lawyer, as an apprentice and was called to the bar in July of 1792.
Scott made a competent though not outstanding lawyer, and his main interest continued to be literature, although he seemed to regard the writing profession as not quite suitable for a gentleman. Despite his doubts, however, he could not refrain from seeking out, collecting, and reciting the poetry of his native land. Inevitably, he tried his hand at composition.
In 1797, Scott visited the Lake Country, where he met Charlotte Mary Carpenter, daughter of a deceased French refugee. After a brief courtship, Scott's suit was approved by Charlotte's guardian, the Marquess of Downshire, and the couple were married on Christmas Eve, 1797. Their union, comfortable rather than passionate, produced four children.
Through exercise to overcome his infirmity, Scott developed a powerful and robust physique; he was an avid horseman and walker, and graceful, despite his lameness. Scott's many portraits show a man of regular, rather than handsome, features, with keen, bright eyes. They also reveal the intelligence, good humor and compassion for which he was well-known. Scott's contemporaries were universal in their admiration for him.
Life's Work
Scott's entry into the literary world was almost casual. After collecting the ballads of others, he began to compose some...
(The entire section is 3,418 words.)