Other literary forms
(British and Irish Poetry, Revised Edition)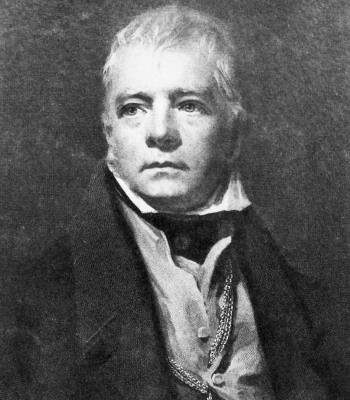 Sir Walter Scott's literary reputation rests firmly on his monumental collection of Waverley novels, the final revision of which was issued, in forty-eight volumes, between 1829 and 1833. The novelist produced those classics on a regular basis during the last eighteen years of his life—beginning with the three-volume Waverley: Or, 'Tis Sixty Years Since in 1814 and concluding, shortly before his death, with Count Robert of Paris and Castle Dangerous (under the collective title Tales of My Landlord, fourth series), both in 1831. In addition to the novels, Scott wrote numerous plays, including Halidon Hill (pb. 1822), Macduff's Cross (pb. 1823), The House of Aspen (pb. 1829), Auchindrane: Or, The Ayrshire Tragedy (pr., pb. 1830), and The Doom of Devorgoil (pb. 1830).
Scott's nonfiction prose includes Religious Discourses by a Layman (1828), The History of Scotland (1829-1830), and Letters on Demonology and Witchcraft (1830). He also produced three biographies of note: The Life and Works of John Dryden, first published in 1808 as part of his eighteen-volume edition of that poet's works; The Memoirs of Jonathan Swift (1826; originally included in the nineteen-volume The Life of Jonathan Swift, 1814); and The Life of Napoleon Buonaparte: Emperor of the French, with a Preliminary View of the French Revolution (1827, 9 volumes). In addition, as editor of Ballantyne's Novelist's Library 1821-1824 (10 volumes), Scott wrote biographical essays on each writer in the series (including Henry Fielding, Tobias Smollett, Samuel Richardson, Ann Radcliffe, Charlotte Smith, and Fanny Burney); he published those sketches separately in 1825 (2 volumes).
Finally, Scott expended considerable energy on a long list of editorial projects carried out between 1799 and 1831: In addition to the works of John Dryden and Jonathan Swift and the Novelist's Library, one may note Minstrelsy of the Scottish Border (1802-1803, 32 volumes), A Collection of Scarce and Valuable Tracts (1809-1815, 13 volumes), and Chronological Notes of Scottish Affairs from the Diary of Lord Fountainhall (1822). Various editions of The Journal of Sir Walter Scott have appeared, beginning in 1890.
Achievements
(British and Irish Poetry, Revised Edition)
Sir Walter Scott's literary reputation rests on thirty novels. Few twentieth century readers and scholars have been interested in his poetry or have taken the time to examine the distinct stages of his literary career. With the publication of Waverley in 1814, Scott's literary life as a novelist began and his period of intense poetic production terminated. At the outset, then, one is tempted to view the poetry only in the context of its effect on the fiction—or, from another perspective, the effect of Scott the poet on Scott the novelist.
Ample reason exists, however, for studying the poetry on its own merits, for the imaginative power to be found in Scott's metrical romances, lyrics, and ballads. Some contemporary scholars support the claims of their Victorian predecessors, who argued that Scott, among all his "British" contemporaries, emerged as the first writer of the Romantic movement. Indeed, although literary historians correctly offer William Wordsworth's Lyrical Ballads (1798)—and its significant preface—as the key to understanding British Romanticism, Scott's The Lay of the Last Minstrel, published seven years later, reached a far wider audience (in both England and Scotland) than Wordsworth's collection and achieved a more noticeable impact among the poet's contemporaries than did the earlier work. In fact, no previous English poet had managed to produce a work that reaped such large financial rewards and achieved so much popular acclaim.
Interestingly enough, Scott's poetic achievements came in a form radically different from those qualities that marked the traditional "giants" of his age—Wordsworth, Samuel Taylor Coleridge, John Keats, Percy Bysshe Shelley, and Lord Byron. True, Scott considered, at a variety of levels, the prevalent...
(The entire section is 2,647 words.)