Biography
(History of the World: The Renaissance)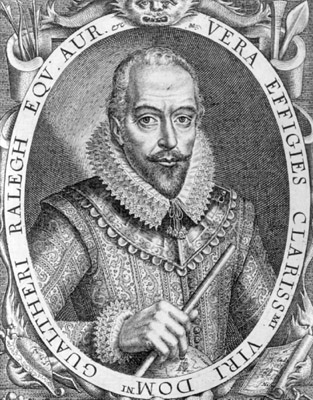 Article abstract: Ralegh's vision and enterprise paved the way for English settlement in North America.
Early Life
Walter Ralegh's birth date is even more uncertain than that of his contemporary William Shakespeare, but the dates of their deaths are precisely recorded, because by then they were among the most famous men of their time. Similarly, their family names are spelled in various ways. More than seventy spellings are recorded for Ralegh, the form he preferred in the second half of his life.
Ralegh is often designated as having been born in 1552, though 1554 accords with depositions he made in lawsuits. In any case, his birth occurred in the farm, or Barton, of Hayes, near East Budleigh on the south coast of Devon. His father was a gentleman farmer, who, like some of his relatives and other adventurous men of southwestern England, made money from maritime ventures, including privateering. Young Walter assuredly learned much about seafaring, as imaginatively depicted in Sir John Everett Millais' famous painting of Walter and another boy sitting on the beach, listening enthralled to a sailor's tale. Famous as he was to become by seafaring, however, Walter first made his mark as a soldier on land. At the end of the 1560's, he was campaigning in France as one of the volunteers fighting for the Protestant Huguenots against the Catholics, an experience which helped to shape his anti-Catholic attitude for the rest of his life. By 1572, he was an undergraduate at Oriel College in Oxford University, but within two years he left without taking a degree, a common practice then. In 1575, he enrolled in the Middle Temple, one of the Inns of Court in London, though he did not complete his legal education. No doubt he acquired knowledge of city and court ways.
Life's Work
In 1578, Ralegh sailed from Plymouth in Devon as captain of one of the ships under the command of his half brother, Sir Humphrey Gilbert, who held the charter to settle new lands for the Crown. The expedition aimed to explore and colonize the coast of North America. Bad weather drove the other ships back to England, but Ralegh persevered and reached the Cape Verde Islands, four hundred miles west of Africa.
After obtaining a minor post at court, in 1580 he was given command of a company of soldiers sent to help suppress rebellion in Ireland. He was involved in savage fighting, he befriended the poet Edmund Spenser, and he got Alice Gould pregnant. (He provided in his will for their illegitimate daughter and found Alice a well-to-do husband.) According to one account, "Ralegh coming out of Ireland to the English Court in good habit (his clothes then being a considerable part of his estate) found the Queen walking [in] a plashy place." He immediately "spread his new plush cloak on the ground, whereon the Queen trod gently, rewarding him afterward." This story, reported some eighty years later in Thomas Fuller's The History of the Worthies of England (1662), may be apocryphal, but it contains two indisputable truths: paintings and miniatures of Ralegh show that he dressed in the most opulent styles of the period, and he quickly became one of Queen Elizabeth I's favorite courtiers. In 1583, she gave him Durham House, a mansion on the north bank of the Thames, east of Westminster Abbey, and in 1584 the profitable monopolies of "the farm of wines" (by which he was authorized to charge every vintner in the realm one pound a year to sell wine) and the license to export woolen broadcloths. Also in 1584, he became a Member of Parliament for Devon and soon afterward Vice Admiral of Devon and Cornwall, Lord Lieutenant of Cornwall, and Lord Warden of the Stannaries (the tin mines of Cornwall). In January, 1585, the queen bestowed a knighthood on him and later made him captain of her guard.
Ralegh was adept at flattering the queen in Petrarchan poems praising her beauty, power, and influence....
(The entire section is 2,746 words.)