Biography
(British and Irish Poetry, Revised Edition)
Sir Thomas Wyatt was born into a family already in favor with the court. His father had served and prospered under Henry VII and Henry VIII, holding a series of important offices, and purchasing as his principal residence Allington Castle in Kent, where the poet was born. Young Wyatt made his first court appearance in 1516 and probably entered St. John's College, Cambridge, the same year. He was suitably married in 1520 to Elizabeth Brooke, the daughter of Lord Cobham, with whom he had a son; but in 1526, they separated because of her infidelity. He was sent on important diplomatic missions, in 1526 to France and in 1527 to Italy, where he traveled extensively.
It is plausibly conjectured that Wyatt was a lover of Anne Boleyn before her marriage to Henry VIII. Some of his poems were probably written to or about her, and his imprisonment in 1536 seems to have been connected with her downfall. He was quickly released to his father's custody, however, and continued to enjoy the king's favor. Knighted, he was sent as ambassador to Spain to improve relations between Henry VIII and Emperor Charles V and to prevent an alliance of the latter with France. On later embassies to France and Flanders, he continued this mission. In 1540, because of a shift in policy, his patron, Thomas Cromwell, was arrested and executed. Slanderous accusations found among Cromwell's papers led to Wyatt's imprisonment in 1541 and his subsequent preparations to reply to the charges. He was soon released, however, on condition that he leave his mistress, Elizabeth Darrell, who had borne him a son, and return to his wife. He continued to occupy important offices, serving as member of Parliament for Kent and vice admiral of the fleet. At about age thirty-nine, he died in Sherborne, Dorset, of a sudden fever contracted on a diplomatic mission to meet the Spanish envoy at Falmouth.
Biography
(Poetry for Students)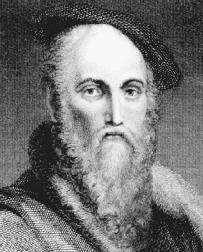 Sir Thomas Wyatt is thought to have been born in about 1503 at Allington Castle, in Kent, England. Wyatt's father, Henry Wyatt, was a powerful and wealthy member of the Privy Council under two kings, Henry VII and Henry VIII. Henry Wyatt's influence was such that his young son Thomas was allowed to be an honorary attendant at the christening of Princess Mary in 1516. Some scholars assume that Thomas Wyatt was educated at Cambridge, since young men of his rank commonly attended that institution. In 1520, Wyatt married Elizabeth Brooke; their son, also named Thomas, who would later be known as Sir Thomas Wyatt the Younger, was born in 1521. The elder Wyatt's marriage had apparently ended by 1525, when he charged his wife with adultery and ceased to live with her.
Wyatt's political career advanced quickly. Initially, he served in minor clerical roles in the royal court, such as clerk of the king's jewels. In 1525, Wyatt was part of an official delegation to the French court, and the following year he accompanied a legation to the papal court in Rome, where he apparently became acquainted with the poetry of Petrarch, a fourteenth-century Italian. After his return to England, Wyatt began translating Petrarch's poems, becoming the first Englishman to compose a sonnet, a fourteen-line poem with a specific format. Wyatt's primary focus, however, was his life as a courtly gentleman. By 1532, he had found a political patron, Thomas Cromwell, who was secretary and adviser on religious matters for Henry VIII. By 1535, Wyatt had been knighted and awarded considerable property and men to command in Kent. The following year, Elizabeth Darrell became Wyatt's mistress, which she would remain until his death.
Wyatt was imprisoned several times, once after being accused of being one of the lovers of Anne Boleyn, who became the second wife of Henry VIII; Wyatt was able to watch Boleyn's execution in 1536 from his prison cell in the Tower of London. Within months, he had been cleared of charges and was freed. In 1540, Wyatt's patron, Cromwell, was executed, and the following...
(The entire section is 1,532 words.)