Biography
(History of the World: The 19th Century)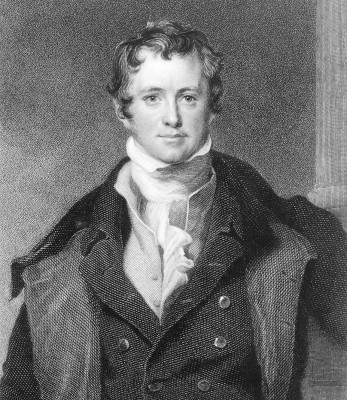 Article abstract: As a philosopher of science, brilliant chemist, and president of the Royal Society, Davy advanced the cause of science as few men had before him. He identified the chemical elements barium, chlorine, magnesium, potassium, sodium, and strontium; pioneered anesthesiology with his experiments with nitrous oxide; invented the Davy lamp to save miners from the perils of explosions; made significant contributions to the application of science for the betterment of society in fields such as agricultural chemistry and tanning; and wrote widely read books on philosophy, flyfishing, and travel.
Early Life
Humphry Davy, born on December 17, 1778, in the remote town of Penzance in Cornwall, England, was the eldest of five children. Grace Millet Davy, his mother, was an orphaned child of a middle-class family. Robert Davy, his father, was a woodcarver who was of yeoman stock. He was an industrious, though not very successful businessman, who tried farming and who speculated in tin mining.
For the eighteenth century an unusual amount of detail is available on the future scientist's childhood. He was an active, healthy, and precocious child, who walked at nine months and spoke fluently at two years of age. This sweet, affectionate child was the family favorite. Even before he could read, which was at age five, he was reciting from The Pilgrim's Progress. At six, he went to school, which was a disappointment. Years later, he wrote, that "learning is naturally a true pleasure," but that even the best school he went to made it painful. Davy considered it fortunate that his teachers generally left him alone and declared that "what I am I made myself." Though he left a grant to the school in his will, it was on the condition that the children be given a day off every year.
Robert Davy died in 1794, saddling his widow with a large debt as a result of his mining adventures. She supported her family by opening a millinery store until she received a small inheritance in 1799.
The twin crises of Humphry's childhood were the move of his family to a farm when he was six and the death of his father when he was fifteen. For the sake of his education, young Humphry lived in Penzance with the old surgeon and apothecary (pharmacist), who had reared his orphaned mother, and only saw his family on weekends. The lonely boy suffered from nightmares and sleepwalking and was terrified by ghost stories and tales of the French Revolution. He learned to amuse and frighten other boys by telling stories of faraway places based mainly on The Arabian Nights' Entertainments. He also loved to hunt and to fish and became passionately devoted to nature.
The death of his father changed Davy's life. He was determined to help his mother, by making something of himself. He set himself an extraordinarily ambitious program of self-study and actually accomplished much of his plan. Though soon apprenticed to a surgeon and apothecary, he was determined to prove his genius. Shortly after reading his first chemistry book, he wrote an article on heat and light that so impressed Dr. Thomas Beddoes of Clifton that nineteen-year-old Davy was invited to become superintendent to the Pneumatic Institution, where Beddoes was experimenting with the use of gases in medical treatment. Typically, the remainder of his five-year indentureship was waived as he took a crucial step toward scientific fame.
In his several years in Clifton, Davy carried out some extremely dangerous and important experiments with nitrous oxide (laughing gas). His friends William Coleridge, Peter Roget, and Robert Southey were among the guinea pigs for his experiments. The most dangerous ones he saved for himself. The laughing gas experiments almost killed him and may have caused long-term damage to his health. He recommended that the gas be applied as an anesthesia for certain surgical procedures. Unfortunately, it would be half a century before...
(The entire section is 2,191 words.)