Sinclair Lewis Biography
Sinclair Lewis had to deal with cruel treatment throughout most of his life. He was taunted as a child and young man for his somewhat unattractive looks. Perhaps because of that, he developed a critical, satirical voice and wrote mostly about the flaws in American society and capitalism. He started out writing more popular magazine stories but soon turned to realistic novels that quickly won acclaim. In 1920, he finished what was called "the most sensational event in twentieth-century American publishing history"—his novel Main Street. Within a few years, it had sold two million copies and is still read and studied to this day. Although very critical of his own works, he received the Nobel Prize for literature in 1930, the first American novelist ever given the award.
Facts and Trivia
Lewis was awarded the Pulitzer Prize in 1926 for his novel Arrowsmith, but he turned down the award. He didn't feel like he deserved it.
His novel Elmer Gantry was banned in Boston and several other cities around the country. This led the way for his later books to be banned as well.
One of his most famous quotes is the following: "When fascism comes to America it will be wrapped in the flag and carrying a cross."
Shortly after graduating from Yale, Lewis made a partial living by selling plots to famous authors, including Jack London.
After struggling with alcohol abuse for many years, Lewis died at the age of sixty-six of advanced alcoholism.
Biography
(History of the World: The 20th Century)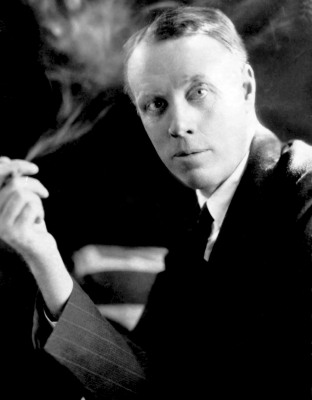 Article abstract: The first American to win the Nobel Prize for Literature, Lewis at once painstakingly depicted and satirized previously neglected areas of middle-American life.
Early Life
The third son of Edwin J. and Emma Kermott Lewis, Harry Sinclair Lewis was born in Sauk Centre, Minnesota, on February 7, 1885. His father was a country doctor, as were his maternal grandfather and, later, his older brother Claude. This association with medicine would help him in the writing of Arrowsmith (1925); it would also give him a lifelong inferiority complex for not following his father's and brother's profession.
In addition to providing the model for Gopher Prairie in his fiction, Sauk Centre contributed in other ways to Lewis' literary career. In the town library, he found the works of Sir Walter Scott and Charles Dickens, two writers who greatly influenced him. From Dickens, he learned to use literature as a means of social protest. Also Dickensian is Lewis' sense of humor, evident in his choice of names for characters whom he dislikes: Capitola McGurk (Arrowsmith), Lowell Schmaltz (The Man Who Knew Coolidge, 1928), Buzz Windrip (It Can't Happen Here, 1935). From Scott, he took the element of romance that colors not only his short stories but also his most realistic social commentary. In Sauk Centre, too, Lewis began his career as a writer, serving as president of his high school's literary society and contributing articles to the town's two newspapers.
Already in Sauk Centre, Lewis was revealing another trait, that of being an outsider. His voracious reading habits marked him as different from his peers, as did his homely appearance. He was tall and thin, with blue eyes and red hair. Over the years, cancer would disfigure an already plain face, so that his second wife said that he looked as if he "had walked through flame throwers." Here, too, Lewis showed the wanderlust that would never let him settle down; instead of attending the University of Minnesota, he insisted on going east to college.
At Yale, he was again a misfit. The eighteenth century scholar Chauncey Brewster Tinker, one of Lewis' few friends there, said that "the conventions and restrictions of good society—especially collegiate society—were offensive to him. His abiding temptation was to undermine them and blow them at the moon." In 1906, he abruptly left college to work as a janitor at Upton Sinclair's utopian community, Helicon Hall, near Englewood,...
(The entire section is 3,723 words.)