Biography
(Great Authors of World Literature, Critical Edition)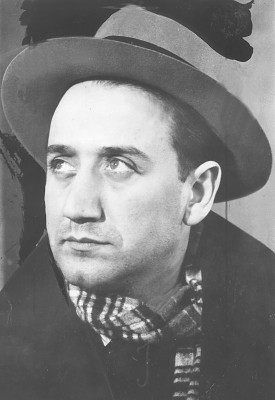 Ignazio Silone (see-LOH-nay), who was born in the Appenine Mountains of the Abruzzi district, dropped his real name, Secondo Tranquilli, to save his family from Fascist persecution. Born the son of a small landowner, he became active in the labor movement as a young boy. In 1917, as secretary for the land workers of the Abruzzi district, he was charged with organizing an antiwar demonstration. In 1921 he joined and became secretary of the Italian Communist Party, and in 1922 he began to contribute, with Antonio Gramsci, to the paper L'Unita. He was also the editor of a daily newspaper in Trieste. Even after Benito Mussolini's rise to power, Silone continued to print illegal newspapers and carry out other assignments. After his trip to Moscow in 1927 he became disillusioned with Communism and broke with the Communist Party in 1930. By 1932 one of his brothers had died in a Fascist prison, and Silone had been imprisoned and then expelled from various European countries.{$S[A]Tranquilli, Secondo;Silone, Ignazio}
Taking up residence in Switzerland in 1930, he set to work on his first novel, Fontamara, in which he describes the systematic destruction by the Black Shirts of a small Italian town that has attempted to resist the Fascists. A propagandistic novel that is nevertheless powerful and affecting, it ends with a plea for action against the scourge. Bread and Wine, perhaps Silone's finest book, tells the story of Pietro Spina, a revolutionist who returns to his native Abruzzi district for refuge while trying to regain his health. Disguised as a priest, he finds the best aspects of his youthful religiousness returning. In carrying out his undercover work he achieves a kind of regeneration as he attempts to fuse the best of Christianity and Marxism. The School for Dictators was a book of satiric dialogues against Fascism. His third novel, The Seed Beneath the Snow, followed the further activities of Pietro Spina among the peasants and small landowners of Silone's native district. (In 1944 Silone published a drama based on the activities of Pietro Spina, And He Did Hide Himself.) With the Allied invasion of Italy, Silone slipped back into Italy disguised as a priest and spent the remainder of the war as a member of the underground.
At the war's end he became manager of the newspaper Avanti! and, as a member of the Constituent Assembly, he participated in drawing up the new Italian constitution. In 1952, two years after retiring from political life to devote himself to literature, Silone published A Handful of Blackberries. This powerful novel, set in postwar Italy, was the story of a former Communist's attempt to break with the Party, despite its retributory attempts against him and his sweetheart, and to resume his work for the peasants against the great landowners. During his final years Silone was active in Italian and international writers' associations while continuing to write. His last writings include a philosophical tale, The Secret of Luca; a political tale, The Fox and the Camellias; and a play, The Story of a Humble Christian, which deals with the life of Celestine V, who abdicated the papacy in 1294.
Biography
(Survey of Novels and Novellas)
Born Secondo Tranquilli in a village of the rugged Abruzzi region of central Italy, Ignazio Silone (a pseudonym he later used to protect his family from Fascist persecution) could never totally separate the image of its rugged topography from his view of human destiny. Again and again its mountains and valleys, as well as the harshness of life this terrain breeds, serve as the background for the struggles of his characters. The Abruzzi was a link between the medieval origins and the modern dilemmas of Italian culture, and the course of Silone's own life runs parallel to the region's emergence from a religious past into a secular and politicized present.
Partly because of poor health in his youth, Silone was educated close to home in religious schools, and although he abandoned...
(The entire section is 1,289 words.)