Other literary forms
(Survey of Novels and Novellas)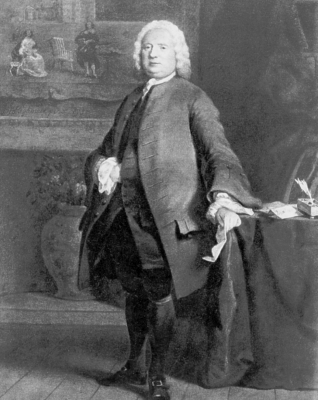 In addition to the three novels on which his fame and reputation rest, Samuel Richardson's best-known work is a collection of fictitious letters that constitutes a kind of eighteenth century book of etiquette, social behavior, manners, and mores: Letters Written to and for Particular Friends, on the Most Important Occasions (1741), customarily referred to as Familiar Letters. It had been preceded, in 1733, by a handbook of instruction concerning the relationship between apprentices and master printers, which grew out of a letter Richardson had written to a nephew in 1731, The Apprentice's Vade Mecum: Or, Young Man's Pocket Companion (1733). Throughout his life, Richardson, like so many of his contemporaries, was a prolific letter writer; notable selections of his correspondence include six volumes edited by his contemporary and early biographer, Anna L. Barbauld, the first of which was published in 1804, and his correspondence with Johannes Stinstra, the Dutch translator of his novels to whom Richardson had sent a considerably important amount of autobiographical material. Of only minor interest is Richardson's A Collection of the Moral and Instructive Sentiments, Maxims, Cautions, and Reflexions, Contained in the Histories of Pamela, Clarissa, and Sir Charles Grandison, published anonymously in 1755, a series of excerpts emphasizing his conviction that "instruction was a more important obligation to the novelist than entertainment."
Achievements
(Survey of Novels and Novellas)
Perhaps Samuel Richardson's most important contribution to the development of the novel was his concern for the nonexceptional problems of daily conduct, the relationships between men and women, and the specific class and caste distinctions of mid-eighteenth century England. He sought and found his material from life as he had observed and reflected on it from childhood and youth as a member of the working class in a highly socially conscious society to his position as an increasingly successful and prosperous printer and publisher. He contemplated this material with passionate interest and recorded it with a kind of genius for verisimilitude that sets him apart from most of his predecessors. What one critic has called Richardson's "almost rabid concern for the details" of daily life and his continuing "enrichment and complication" of customary human relationships account in large measure for his enormous contemporary popularity: In Pamela, for example, the relationships between Pamela and Squire B. are so persistently grounded in the minutiae of ordinary life as to create a sense of reality seldom achieved in prose fiction prior to Richardson; at the same time, the outcome of the emotional and physical tug-of-war between the two main characters and the happy outcome of all the intrigue and sensationalism have about them the quality of conventional romantic love.
Richardson learned to know his characters so intimately, so thoroughly, as to triumph over his prolixity, repetitiveness, moralizing, and sentimentality. Equally important was his development of the epistolary novel. Other writers had used letters as a storytelling device, but few if any of Richardson's predecessors had approximated his skill in recording the external events and incidents of anarrative along with the intimate and instant revelation of a character's thought and emotions in the process of their taking place, a method so flowing, so fluid, so flexible, as almost to anticipate the modern technique ofstream of consciousness. Richardson's works, along with those of his three great contemporaries—Henry Fielding, Tobias Smollett, and Laurence Sterne—prepared the way for the great achievements of the nineteenth century English novel.
Discussion Topics
(Masterpieces of World Literature, Critical Edition)
Why did Samuel Richardson prefer epistles as the basis of his novels?
Did Richardson's Pamela deserve to be satirized by Henry Fielding?
Does Richardson differ significantly from other eighteenth century novelists, who tended to emphasize the external aspects of social relationships rather than psychological ones?
Lovelace, in Clarissa, is an early example in English fiction of the seducer. Is he a credible character or just a projection of sexual villainy?
Does Clarissa have any vitality beyond her fierce defense of her chastity?
Is Richardson important primarily as an early and influential English novelist, or can he speak to readers of the present time?
Bibliography
(Great Authors of World Literature, Critical Edition)
Blewitt, David, ed. Passion and Virtue: Essays on the Novels of Samuel Richardson. Toronto: University of Toronto Press, 2001. A collection of essays on the whole range of Richardson's work.
Bloom, Harold, ed. Samuel Richardson. New York: Chelsea House, 1987. In addition to Bloom's own introduction, there are six essays devoted to Clarissa and two each to Pamela and Sir Charles Grandison. The book also includes a chronology of Richardson's life and a brief bibliography.
Brophy, Elizabeth Bergen. Samuel Richardson. Boston: Twayne, 1987. A good critical biography.
Brophy, Elizabeth Bergen. Samuel Richardson: The Triumph of Craft. Knoxville: University of Tennessee Press, 1974. Rejecting the notion that Richardson's unconscious produced great novels in spite of the author, Brophy determines his theories about fiction, and then compares these ideas with Richardson's practice.
Bueler, Lois E. Clarissa's Plots. Newark: University of Delaware Press, 1994. Examines the themes in Richardson's seminal work. Includes bibliographical references and an index.
Eagleton, Terry. The Rape of Clarissa: Writing, Sexuality, and Class Struggle in Samuel Richardson. Minneapolis: University of Minnesota Press, 1982. A Marxist critique of Clarissa.
Eaves, T. C. Duncan, and Ben D. Kimpel. Samuel Richardson: A Biography. Oxford, England: Clarendon Press, 1971. A definitive biography, based on fifteen years of research. Devotes three chapters to each of the novels and concludes with four excellent chapters on Richardson's personality, thoughts, reading, and achievements.
Lams, Victor J. Anger, Guilt, and the Psychology of the Self in "Clarissa." New York: P. Lang, 1999. A reading of Clarissa that focuses on Lovelace as a narcissistic personality and Clarissa's forced change of philosophical stance in reaction to his actions.
Lams, Victor J. Clarissa's Narrators. New York: P. Lang, 2001. Argues that the novel has an action structure consisting of five act-like movements that emerge from the round robin transfer of narrative dominance.
Michie, Allen. Richardson and Fielding: The Dynamics of a Critical Rivalry. Lewisberg, Pa.: Bucknell University Press, 1999. Analyzes the effect of Fielding's disdain for Richardson's works on the former's creative output.
Rivero, Albert J., ed. New Essays on Samuel Richardson. New York: Palgrave Macmillan, 1996. A collection of essays that approach Richardson's work from a variety of theoretical perspectives.
Watt, Ian. The Rise of the Novel: Studies in Defoe, Richardson, and Fielding. 1957. Reprint. Berkeley: University of California Press, 2001. Contains excellent chapters on Pamela and Clarissa, praising the psychological depth of the characters. Analyzes Richardson's contribution to the development of English prose fiction and relates the novels to the social situation of their day.