Biography
(Great Authors of World Literature, Critical Edition)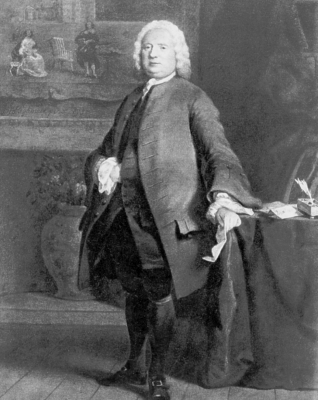 Samuel Richardson was born in 1689, the son of a Derbyshire joiner and a pious mother. As a boy, his thoughtful and serious nature would have recommended him for the church, but his parents could not afford the requisite education. Instead, after moderate schooling, he was apprenticed to a London printer, John Wilde. He proved a conscientious worker for a demanding master and in due time reaped his reward by marrying his employer's daughter and succeeding to the business. By dint of hard work and honesty, his became one of the most prosperous and sought-after publishing concerns in London.
No evidence exists that Richardson had any youthful ambitions to be a writer; he was over fifty, and a successful businessman, when he stumbled, quite by accident, into his role as "father" of the English novel. From youth to old age, Richardson was unusually fond of what he characteristically called "epistolary correspondence." As a boy in Derbyshire he had been commissioned by various young women to compose or embellish their love letters, and in the process he had gained considerable insight into their emotional lives and had developed an imagination that took pleasure in creating detailed fantasies concerned with the distresses of love. Later, as an apprentice, he carried on a long correspondence, often on moral subjects, with a man he describes as being a "master of the epistolary style." With this background in letter-writing, it was not unusual that two bookseller friends should suggest that he turn his talents to account by publishing a volume of model letters of various sorts. Richardson took up the idea but characteristically amended it by proposing that the letters should teach not only how to write but also "how to think and act justly and prudently in the common concerns of human life."
The book, Letters Written to and for Particular Friends, on the Most Important Occasions (sometimes called, more simply, Familiar Letters), appeared in 1741, but in the meantime Richardson, while writing a connected group of letters "to instruct handsome young girls, who were obliged to go out to service, . . . how to avoid the snares that might be laid against their virtue," remembered an appropriate story told him some twenty-five years before; thus Pamela: Or, Virtue Rewarded, published in 1740-1741, was born. Perhaps Richardson himself provides the best concise description of this milestone in the development of the novel on the title page:Pamela: or Virtue Rewarded. In a Series of Familiar Letters from a beautiful Young Damsel, to her Parents. Now first published in order to cultivate the Principles of Virtue and Religion in the minds of the Youth of both Sexes. A Narrative which has its Foundation in Truth and Nature; and at the same time that it agreeably entertains, by a Variety of curious and affecting Incidents, is entirely divested of all those Images, which, in too many Pieces calculated for Amusement only, tend to inflame the Minds they should instruct.
The book proved not only an immediate and unparalleled success—with the average reader for its detailed descriptions of situations and emotions that at times approach the salacious, and with the pious for its moral rectitude—but also, by adding to the realism of Daniel Defoe a power of minute mental analysis that Defoe did not possess, it set a new fashion in fiction, the novel of sensibility.
For all its success and its importance as both one of the first epistolary novels and the prototype of the novel of sentimental analysis, Pamela is not without its faults. Although Richardson makes dramatic use of the letter-writing technique, the device demands an annoying degree of almost priggish self-righteousness on the part of the heroine. Further, the morality of the "lesson" taught is not above suspicion. Pamela defends her virtue valiantly, but not without an eye to the main chance, and in the end is rewarded handsomely by...
(The entire section is 1,493 words.)