Biography
(History of the World: The 17th and 18th Centuries)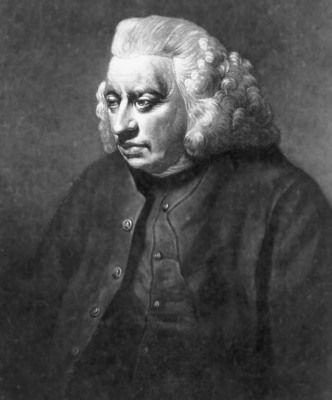 Article abstract: Johnson not only wrote some of the finest poetry, fiction, and essays of his time but also edited the works of William Shakespeare and compiled the first dictionary of the English language.
Early Life
Samuel Johnson was born on September 18, 1709, in Lichfield; his father, Michael Johnson, was an unsuccessful bookseller. As an infant, Johnson contracted tuberculosis from a wet nurse and lost sight in one eye and hearing in one ear. His physical appearance was not appealing; one of Johnson's aunt's declared that she "would not have picked such a poor creature up in the street." Johnson's ill health and frightening appearance did not, however, prevent him from educating himself in the back room of his father's bookshop. He did very well in his studies at Lichfield Grammar School, and after a year at Stourbridge Grammar School as both student and teacher, he entered Pembroke College, Oxford. He was described by one of the dons there as "the best prepared pupil to have come up to Oxford." The small legacy from his mother was not enough to keep Johnson at Oxford, however, and he had to leave without a degree in 1731.
His prospects were very uncertain, but he did manage to get a job as an undermaster at Market Bosworth School. Johnson described this experience as a "complicated misery," and he soon left. It was during this period that Johnson fell into a psychological depression, a malady that was to plague him throughout his life. He did manage to break his depression long enough to translate into English the French version of Father Jerome Lobo's A Voyage to Abyssinia, in 1735. Also in 1735, he married a widow, Elizabeth Porter, who was older than he and not very attractive; in addition, her family opposed her marrying a younger man. With her money, he established Edial School; the school was not a success, however, and in 1737 he went to London with one of his pupils, the future great actor, David Garrick.
Life's Work
In London, Johnson attempted to support himself with his pen. He wrote some essays for the Gentleman's Magazine and worked on his tragedy, Irene (1749). Johnson was living apart from his wife during this period, and the marriage, which was a very odd one to begin with, was never the same. Johnson wrote one of his better poems in 1738, London: A Poem in Imitation of the Third Satire of Juvenal. The poem is filled with horrifying descriptions of daily life in London, and it provides a picture of the type of life Johnson was then living. One couplet shows something about his attitude at this time: "This mournful truth is ev'ry where confess'd,/SLOW RISES WORTH, BY POVERTY DEPRESS'D." Johnson met Richard Savage in 1738, and the two of them wandered the streets living a hand-to-mouth existence. Savage was a poet, and he claimed to be the illegitimate son of the Countess of Macclesfield. The moral Johnson and the amoral Savage made a strange pair, but Johnson had a close attachment to Savage, as is evident in An Account of the Life of Mr. Richard Savage, which Johnson published anonymously in 1744. W.J. Bate calls this work the first example of "critical biography" in English, and its combination of criminal biography with high-minded moral lessons has fascinated readers for two centuries.
Johnson was able to bring his wife, Tetty, to London in 1737, but he was still making a precarious living doing the journalism that Grub Street demanded. One of the most interesting examples of that type of writing was Johnson's reporting—or, more accurately, creating—the Parliamentary Debates. He did not attend the debates in Parliament, but learned the order of the speakers and the positions they took and then wrote them up in his very noticeable style. For more than two centuries some of those speeches were set forth as models of oratory , but they were really the product of a poor man who dashed them off when he could in a disheveled room in Grub...
(The entire section is 2,228 words.)