Biography
(History of the World: The Renaissance)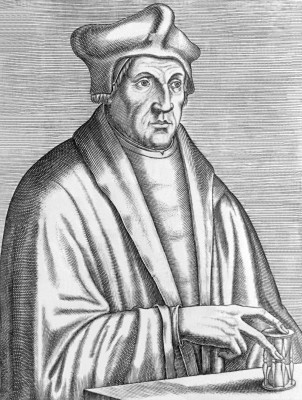 Article abstract: Fisher strongly contested the views of Martin Luther through his writings, supporting the Catholic faith, the Catholic Church, and the idea of the real presence in the Eucharist. He was canonized as a saint by the Roman Catholic Church in May, 1935.
Early Life
John Fisher, the eldest son of Robert and Agnes Fisher, was born at Beverley, Yorkshire, in 1469. His father was a well-to-do mercer who died when Fisher was seven or eight. Fisher was educated at the cathedral school attached to Rochester Cathedral, then went to Michaelhouse, Cambridge. He took his B.A. in 1487 and his M.A. in 1491. He became Fellow, then proctor, and finally Master of the college in 1497. As a proctor, he went to the royal court on college business and met Margaret Beaufort, Henry VII's mother. In 1497, she made him her confessor. Later, she founded a chair of divinity at Cambridge and appointed him its first incumbent in 1503. Fisher also helped her found Christ's College there in 1505. Before, in 1504, he had been elected chancellor of all Cambridge University, a post to which he was reelected at ten-year intervals and then for life. In the same year he became Bishop of Rochester, a post that he held until deprived shortly before death, declining to accept other, richer bishoprics. He preached the funeral sermons of both Henry VII, who died on April 21, 1509, and of Margaret Beaufort, who died three months later, and he brought Lady Margaret's works of charity and ascetic practices to the attention of the world.
Fisher was six feet tall, unusually tall for the times and only two or three inches shorter than his sovereign, Henry VIII. Hans Holbein, Henry's court painter, painted Fisher, probably in 1527; the portrait depicts an ascetic face, high cheekbones, and sharp eyes. He was fifty-eight at the time and not well. In fact, ill health plagued him the last years of his life.
Life's Work
With the death of his patroness, Lady Margaret, Fisher was comfortably ensconced in his posts as chancellor of Cambridge University and Bishop of Rochester. Like his contemporaries Thomas More, John Colet, and Erasmus, he favored the new learning and also a reforming within the Church of lax Christian practice. He demonstrated his commitment to the new education by carrying out Lady Margaret's bequest to found St. John's College at Cambridge (1511). He also facilitated Erasmus' teaching Greek at Cambridge (1511) and set up lectureships at St. John's in Greek and Hebrew. He himself started learning Greek in his forties. He came afoul of Cardinal Thomas Wolsey, Henry's chancellor, in 1517, when he preached at Westminster against clerical high living and greed. Moreover, in 1523 in the religious convocation, he resisted Wolsey's demand for money to wage a war with Flanders.
Fisher hated Martin Luther and his doctrine. On May 12, 1521, at Paul's Cross, London, he preached against Luther's writings. After the sermon, Luther's books were burned. Fisher wrote several tracts against Luther: Assertionis Lutheranae confutatio (1523), Sacri sacerdotii defensio (1525), Defensio Regie assertionis contra Babylonicam captiuitatem (1525), a defense of the work that had earned for Henry the papal title Defender of the Faith. Fisher became more conservative as he aged. At the opening of the Reformation Parliament in the fall of 1529, he spoke out against Henry's plan of church reform. To Henry's demand in the same Parliament in 1531 for a submission of the clergy, Fisher convinced the assembly to add the clause "as far as the law of God allows" to give the clergy room to save their individual consciences and to attest their primary allegiance to God.
The Reformation Parliament had been called as a consequence of the king's "Great Matter," Henry's desire to nullify his marriage to Catherine of Aragon in order to marry Anne Boleyn. Before Parliament had been called, a...
(The entire section is 1,774 words.)