Biography
(History of the World: The Middle Ages)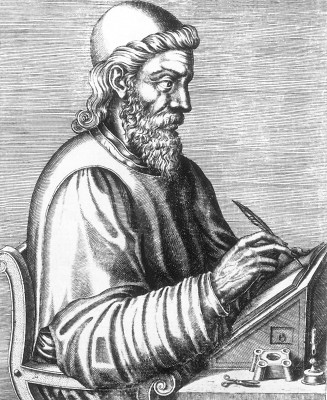 Article abstract: Bede is the author of the first worthy extant example of English Christian scholarship. In his own time, Bede set an example by his saintly life and his dedication as a teacher. Today he is known primarily for his Ecclesiastical History of the English People, which has earned for him the title "the father of English history."
Early Life
Bede (Latin Baeda or Beda) was born of Saxon parents in 672 or 673 c.e., south of the Tyne River on land which in 674 was incorporated into the monastery of St. Peter founded at Wearmouth by Benedict Biscop. At the age of seven, Bede was placed by his parents in the care of Abbot Benedict to receive an education. A year later, in 681 or 682, he was transferred to the newly founded, and associated, nearby monastery of St. Paul at Jarrow, under the authority of Abbot Ceolfrid. In 686, a plague so ravaged the monastery that, according to Ceolfrid's anonymous biographer, only the abbot himself and one boy were well enough to sing the antiphons in the choir. This boy probably was Bede, who even at this young age was able to fulfill the duties of a choir monk.
Bede was reared in a very scholarly environment. His first abbot, Benedict, had been trained at the famous monastery of Lerins on the French Riviera. Benedict had visited Rome several times and was a Greek and Latin scholar expert in art, astronomy, music, and theology. Bede derived great benefit from the monastic library, assembled by Benedict and subsequently doubled in size by Ceolfrid. In spite of his relative isolation, he had much of contemporary European scholarship ready at hand; what was not available often could be borrowed from another monastery. Most of the books available to Bede would have been the writings of the Church fathers, such as Ambrose of Milan, Saint Jerome, Saint Augustine, and Gregory the Great, upon whom Bede based most of his theological study. He was much less familiar with—or at least had less access to—the writings of the classical Latin authors, many of which were not rediscovered until the Renaissance.
Bede eventually became a master of both Latin and Greek, and he even knew some Hebrew. While still in his teens, Bede was recognized for his learning and scholarship. At the age of nineteen, in 692 or 693, he was made a deacon by Bishop John of Hexham, even though the canonical age for such an office was twenty-five. At thirty he was made a priest by the same bishop. Both promotions were made on the recommendation of his abbot, still Ceolfrid.
Life's Work
Bede rarely traveled far from home, although he did visit the monastery at Lindisfarne before 721, and his friend Egbert, Archbishop of York, in 733. He also may have visited the learned king Ceolwulf of Northumbria, who eventually abdicated and himself became a monk.
Bede is known primarily for his literary activities, to which he gave devoted and incessant effort. He said of himself,
I have spent all . . . of my life in this monastery and devoted myself entirely to the study of the Scriptures. And while I have observed the regular discipline and sung the choir offices daily in church, my chief delight has always been in study, teaching, and writing.
His occupation with such activities also would have enabled him to escape much of the drudgery which was endured by the other, less intellectually oriented, monks.
A great number of Bede's works still survive, although many of the shorter works still have not been edited adequately. Much of this writing consists of commentaries, mostly allegorical in nature, on the Scriptures. Bede said of them,
from the time of my receiving the priesthood until my fifty-ninth year, I have worked, both for my own benefit and that of my brethren, to compile short extracts from the works of the venerable Fathers on Holy Scripture and to comment on their meaning and interpretation.
Indeed, Bede wrote voluminously on both the Old Testament and...
(The entire section is 2,032 words.)