Other literary forms
(British and Irish Poetry, Revised Edition)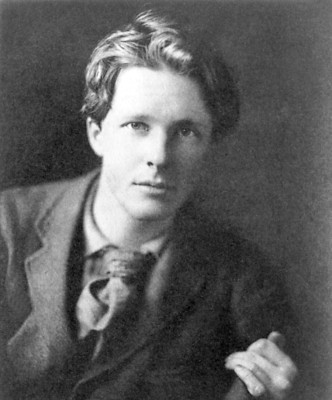 Rupert Brooke's lasting work is to be found exclusively in his poetry, but his work in several other literary forms at least deserves mention. Brooke was attracted to the theater, and two of his works, one as a critic and one as an artist, reflect this interest. John Webster and the Elizabethan Drama (1916) was written as his fellowship dissertation and later published; although much criticized for its lack of scholarly decorum, it reveals a lively style and an author fascinated with the remarkable developments in Elizabethan theater. His only play, a one-act tragedy titled Lithuania (pb. 1935), can be read with some satisfaction despite its bizarre plot and uncertain tone. As always with Brooke, his skill with language helps camouflage his errors and excesses. As a journalist, Brooke mixed with strong effect the lyricism of a poet with the enthusiastic observations of an excited traveler, most prominently in a series of articles that described his tour of the United States, Canada, and the South Seas, written for the Westminster Gazette. In these delightful pieces, he adeptly and wittily penetrates such subjects as the American personality, a baseball game at Harvard, and the grandeur of the Rocky Mountains. These display British wonder, sometimes dismay, at the "new world" but always stop short of tasteless condescension. Finally, Brooke was a masterful and enthusiastic correspondent; his letters contain enchanting representations of matters both personal and universal as he comments on a variety of subjects.
Achievements
(British and Irish Poetry, Revised Edition)
Any attempt to measure the achievement of Rupert Brooke as a poet must also account for the impact of Brooke as a dashing public figure in life, and as a hero and martyr in death. This is not to devalue the richness of his best verse, for his canon is mostly sound, and the tragedy of his early death is amplified by the tragedy of artistic potential cut short. Still, if ever a poet has been linked with an era, his physical presence and intellectual attributes defining the sentiments of a nation and its people, then that poet is Brooke. Any evaluation of his work is at once confused and enriched by the clamor that surrounded his life, art, and death. His life as student, citizen, and soldier reflects values prized by the British as they entered the twentieth century and endured World War I. His art is complex, but not in a metaphysical way. Rather, its mystery can be ascribed to the tension produced when the convictions of a traditionalist in matters of form and structure are linked with the passionate voice of an exuberant Romantic. Brooke's preference for sonneteering is well known. His topics and themes are more often quaint and predictable than unique and shocking (an effect he often desired to achieve). The poetry is classically graceful and romantically intense, always ultimately sustained by a gift for language. Finally, however, Brooke's death during World War I, the sometimes crude publicity that surrounded it and his memory, and the subsequent legendary status accorded him ensured for all time that critics would find it difficult to separate his life from his art, in an attempt to assess his legacy.
Discussion Topics
(Masterpieces of World Literature, Critical Edition)
What did the development of Rupert Brooke's dramatic skill owe to his study of Robert Browning? What did it owe to John Donne?
To what extent does Brooke's poetic reputation rest on his personal qualities and adventures?
In what respects was Brooke a late Victorian poet?
Can nostalgia and satire coexist successfully in the same poem? Does your answer apply to "The Old Vicarage, Grantchester"?
Relate Brooke's "The Soldier" to the poetic tradition—familiar in William Shakespeare, Browning, and others—of celebrating England.
Bibliography
(British and Irish Poetry, Revised Edition)
Delaney, Paul. The Neo-Pagans: Rupert Brooke and the Ordeal of Youth . New York: Free Press, 1987. In 1911, Virginia Woolf half-derisively gave Brooke and his carefree circle the label "neo-pagans." In this balanced appraisal, Delaney focuses...
(The entire section is 1,030 words.)