Download Roosevelt, Franklin D.: Excerpt From "Ulimited National Emergency" Study Guide
Subscribe Now
Primary Source
(American Home Front in World War II: Primary Sources)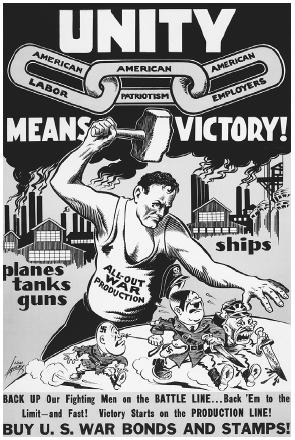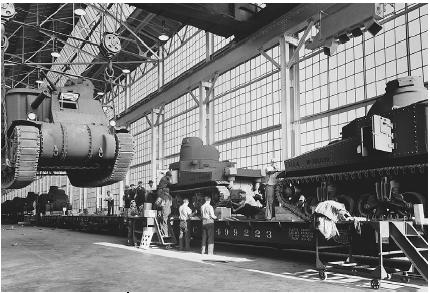 Excerpt from "The President Proclaims That an Unlimited National Emergency Confronts the Country, Proclamation No. 2487," delivered on May 27, 1941
Reprinted from The Public Papers and Addresses of Franklin D. Roosevelt, 1941 Volume.
Published in 1950.
"I call upon all the loyal citizens engaged in production for defense to give precedence to the needs of the Nation …."
In the spring of 1941 German dictator Adolf Hitler continued his aggression in Europe. By mid-April Yugoslavia had fallen under German occupation. By the end of April German and Italian forces had subdued Greece. Meanwhile Japanese military forces threatened to expand into the Southeast Asian nations of Vietnam, Laos, and Cambodia and appeared to cast an eye upon the U.S. territories of Guam and the Philippines. The United States became concerned about its economic interests in those regions.
President Roosevelt's "Arsenal of Democracy" speech in December 1940, in which he called for voluntary mobilization to manufacture more war materials, had produced considerably less action than he had hoped. Although leaders from industry, labor, and agriculture had made progress, much more needed to be done—and at a much faster pace. Roosevelt and his advisers believed that if U.S. business leaders continued their sluggish, foot-dragging approach to mobilization, America's own shores might soon come under Axis attack. In May 1941, as Axis expansion continued,
President Roosevelt felt it necessary to proclaim an "unlimited national emergency." His proclamation was brief, firm, and to the point. Roosevelt stated that Axis powers were bent on dominating the world, and he demanded the authorization to strengthen the U.S. military for defense against foreign attack. Military and civil defenses (civilian programs designed to protect U.S. citizens from enemy attack on the home front) were put on notice to be ready to turn back any aggression in the Western Hemisphere. President Roosevelt then called upon private businesses to put production of much needed war materials ahead of all domestic production wants or needs. He called upon workers and employers to put aside their differences for the sake of uninterrupted production. Finally Roosevelt directed all state and local government officials to work with civil defense agencies to protect the home front of the United States.
Things to remember while reading the excerpt from "Proclamation No. 2487" …
President Roosevelt first called for U.S. mobilization to build up America's defense capabilities in September 1939, when Nazi Germany invaded Poland. His call had largely been ignored; most Americans saw no reason to be involved in another European war. In late December 1940, in his "Arsenal of Democracy" speech, Roosevelt again urged U.S. industry to mobilize and convert to war armament production.
In Proclamation No. 2487 Roosevelt specifically addressed workers and employers, because their utmost cooperation with each other was vital to the war production effort. In the late 1930s membership in labor unions increased as worker dissatisfaction with wages and work conditions increased. The union supported many strikes (work stoppages) to press their demands for improved conditions. In some cases the confrontations led to violent clashes between union members and management's security guards.
Many industry leaders had continued to balk at switching from production of civilian consumer goods to war armaments. They wanted assurances from the government and the military that the production of war materials would be...
(The entire section is 1,528 words.)