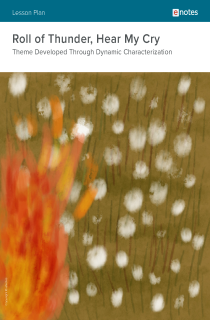 Preview
Roll of Thunder, Hear My Cry Character Analysis Lesson Plan
by Tessie Barbosa
Released March 11, 2020
Language Arts and Literature subjects
27 pages
Purchase a Subscription
Grade Levels
Grade 5
Grade 6
Grade 7
Grade 8
Excerpt
Theme Developed Through Dynamic Characterization:
This lesson focuses on Cassie Logan as a dynamic character in Roll of Thunder, Hear My Cry. Students will examine Cassie's thoughts, words, actions, and reactions throughout the text. Students will also examine key events in the plot that impact Cassie and describe how Cassie changes as a result of these experiences. In analyzing the changes in Cassie's character, students will be better able to identify and describe themes in the novel.
Learning Objectives: 
By the end of this lesson, students should be able to
define and explain static character and dynamic character;
summarize key events in the plot that affect Cassie's life;
analyze Cassie as a dynamic character and describe how she changes as a result of her experiences;
identify and describe major themes in the novel that are developed through Cassie's dynamic character.
Skills: close reading, analysis, employing historical context in literary analysis, summary writing, identifying cause/effect relationships, drawing inferences from a text, drawing themes from a text
Common Core Standards: RL.6.1, RL.6.2, RL.6.3, RL.7.1, RL.7.2, RL.8.1, RL.8.2, RL.8.3
Introductory Lecture:
Published in 1976, Mildred Taylor's multiple-award-winning novel, Roll of Thunder, Hear My Cry, is set in 1930s Mississippi. The main character and narrator is nine-year-old Cassie Logan, a black girl who lives with her parents, grandmother, and three brothers on their 400 acres of land. The Logans are one of the few black families in the community to own their own land and Cassie's father tells her that someday she will be grateful that her grandfather was able to purchase the property after the Civil War. Cassie is outspoken, spirited, and mostly unaware of the racism and discrimination that characterize life as a black American in the 1930s South. However, during a tumultuous year of unjust and frightening events in and around her community, Cassie begins to understand disturbing truths that result in fundamental changes in her character.
Mildred Taylor was born in Jackson, Mississippi, in 1943. When she was an infant, her parents moved the family to Ohio, as her father believed the South still harbored too much racism and he wanted his daughter to grow up in a less prejudiced environment. The great-granddaughter of a former slave, Taylor grew up listening to her relatives' stories about her family's history and life in the South, from before the Civil War to the Jim Crow era of the 20th century. Taylor's fictional works, including Roll of Thunder, Hear My Cry,
are based on her own family history and the Southern black storytelling tradition. Roll of Thunder, her best-known novel, is part of a series that chronicles several generations of the Logan family.
When it was published, Roll of Thunder received immediate critical acclaim, garnering the prestigious Newbery Medal in 1977 and going on to receive many other awards. The New York Times Book Review recognized the novel in their Best of Children's Books category for 1970-1980. In 2016, the Penguin Young Readers publishing house issued a commemorative 40th anniversary edition of the novel, with a new cover design by renowned artist Kadir Nelson. Penguin noted at the time that 6.5 million copies of Roll of Thunder were currently in print.
About
Our eNotes Lesson Plans have been developed to meet the demanding needs of today's educational environment. Each lesson incorporates collaborative activities with textual analysis, targeting discrete learning objectives. We've aligned all of these lessons to particular Common Core standards, and we list the specific standard met by each lesson. The main components of each plan include the following:
An introduction to the text
A step-by-step guide to lesson procedure
Previous and following lesson synopses for preparation and extension ideas
A collection of handouts and worksheets complete with answer keys
Each of these lesson plans focuses on promoting meaningful interaction, analytical skills, and student-centered activities, drawing from the Common Core Standards for English Language Arts and the expertise of classroom teachers. Each lesson includes an instructional guide on how to present the material, engage students in an activity, and conclude the class.