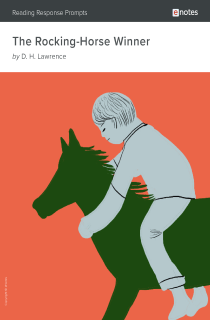 The Rocking-Horse Winner eNotes Reading Response Prompts
*This download is only available with the eNotes Teacher's Subscription
Purchase a Subscription




Excerpt From This Document
What are some details that establish the story's setting in England? Explain how the class structure in British society is evident in the story, especially in regard to Paul's parents.
If the voice Paul and his family hear throughout the house is interpreted as a metaphor, what might it represent? What might it suggest about daily life for Paul and his family?
Describe the relationship between Paul and Bassett. How does it fill an emotional need in Paul's life? In what ways is Paul's friendship with Bassett better than Paul's relationship with his parents?
How does Paul's mother demonstrate a growing concern for him? Do you think she loves Paul, or do you think she is playing the role of a good mother? Explain how you interpret her behavior shortly before Paul's death.
About this Document
These eNotes Reading Response Prompts are designed to encourage your students to read more effectively and with more pleasure by giving them interesting subjects to write about after they have read. Many of the prompts will take them directly into the text, while others will give them an opportunity to express their thoughts and feelings and to reflect on their own experiences.
A second purpose of the eNotes Reading Response Prompts is to facilitate instruction in ways that work for you in the classroom. The organization of the prompts makes them easy to use, and the content and construction of the prompts are designed to develop students' knowledge and academic skills.