Biography
(Masterpieces of American Literature)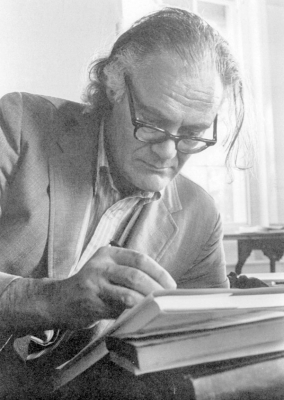 Robert Trail Spence Lowell, Jr., was born into the well-known Lowell family of Boston. His father, however, was not a distinguished member of that family, being a commander in the United States Navy and later an unsuccessful businessman. At the time of Robert's birth, his mother's family, the Winslows, had more money and more prestige, and his mother smothered her son with affection, while denigrating her husband's incompetence. Lowell's memoir "91 Revere Street" in Life Studies (1959) shows a sensitive child caught in the perpetual conflict of his parents.
Lowell attended a fashionable prep school, St. Mark's, from 1930 to 1935 and Harvard University until 1937. He rebelled against his respectable parents in 1937 and left Harvard to pursue a possible career as a poet by going to live with the established poet Allen Tate in Clarksville, Tennessee. In 1937, Lowell entered Kenyon College to study with the poet John Crowe Ransom; he graduated summa cum laude in 1940. Lowell also met such lifelong friends at Kenyon as Randall Jarrell and Peter Taylor; he would often write about them in his later poetry.
Lowell was attempting to become a modern American poet by absorbing the ideas and techniques of Tate and Ransom; both poets exemplified and supported the New Criticism. The New Criticism focused on the poem rather than the poet, and it used as models such seventeenth century poets as John Donne. A proper poem, in the New Critics' view, was complex, with rich imagery, and filled with recondite allusions.
In 1940, Lowell married his first wife, the fiction writer Jean Stafford. The marriage was stormy. Each writer was producing significant work at the time, although Stafford was more financially successful than was Lowell. Lowell's political beliefs added to the complexities of his life. He became a conscientious objector in the early 1940's when he learned about the bombing of the civilian population in Germany. In 1943, he was sentenced to a year in prison for refusing to be inducted into the military. He wrote a letter to President Franklin Roosevelt stating his position, his "manic statement/ telling off the state and president." During this period, Lowell converted to Catholicism; this provided the subject matter for many of his early poems. He was later to reject Catholicism as the answer to his quest for a higher authority.
In 1944, Lowell's first book of poetry, Land of Unlikeness, was published. It was in the complex and allusive style that the New Critics favored, and the reviews, while not extensive, were favorable. The true breakthrough volume for Lowell was his next book of poetry, Lord Weary's Castle, published in 1946. It was an advance in style and technique, and, while it was still complex, it was much more forceful than the earlier book, especially such poems as "The Quaker Graveyard in Nantucket" and "After the Surprising Conversions." In 1947, Lord Weary's Castle was awarded the Pulitzer Prize in poetry.
Although Lowell was recognized as an important American poet at this time, his life was troubled. He was subject to manic-depressive episodes and regularly spent brief periods in mental hospitals. The manic periods were especially disturbing because Lowell would claim that he was an all-powerful ruler and refuse the reasoned appeals of those closest to him. These episodes were usually accompanied by Lowell's acquiring a new girlfriend while he announced to whoever would listen that he meant to leave his wife. During one of these episodes he wrecked a car and seriously injured Stafford. He divorced her in 1948 and married another writer, Elizabeth Hardwick, in 1949. In 1951, Lowell's third book of poetry was published; The Mills of the Kavanaughs is a series of dramatic monologues and is perhaps the least representative book he ever published. Critically, it was also one of the least successful.
The Beat poets of the 1950's and Lowell's turning...
(The entire section is 1,649 words.)